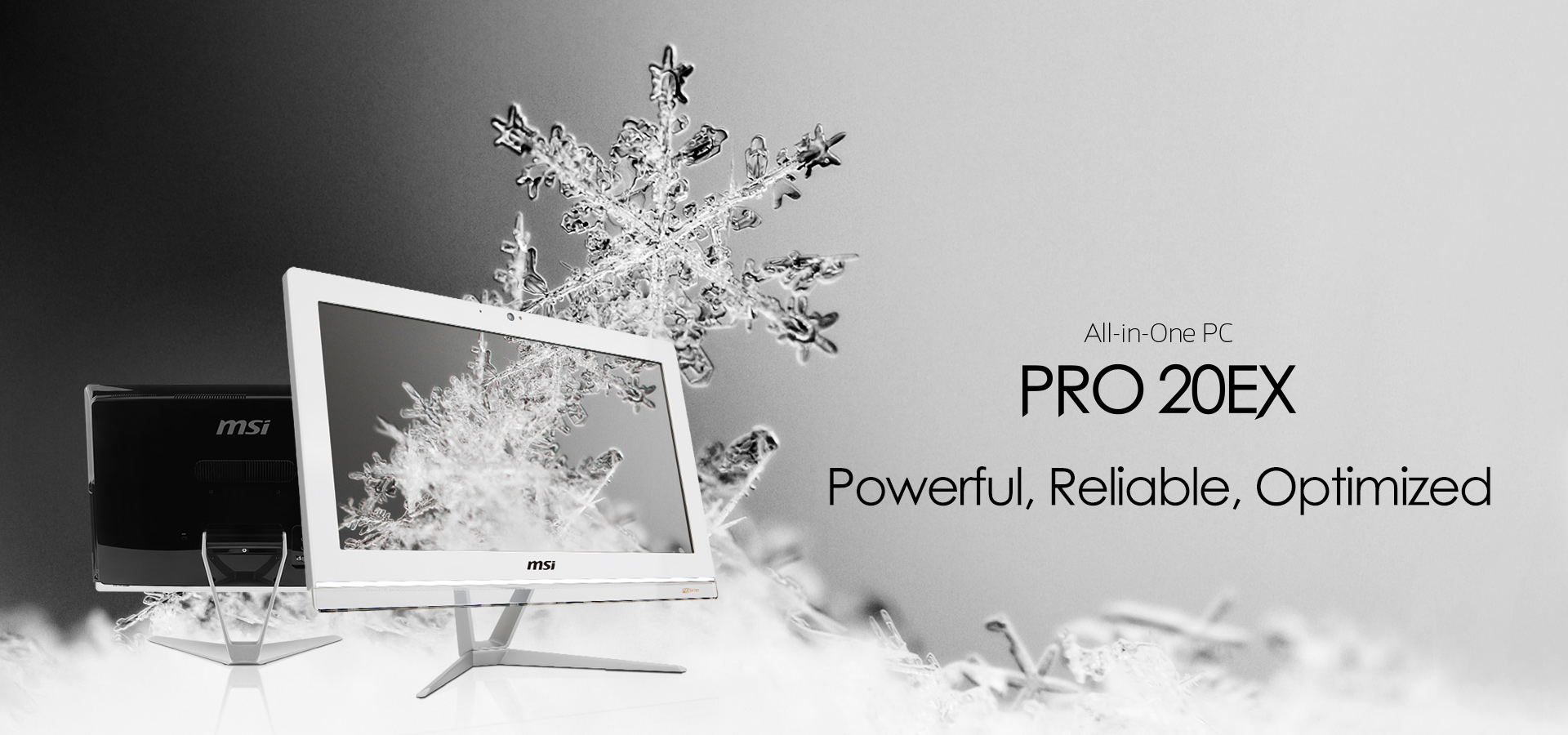 PRO 20EX Series
PRO 20EX series have a beautiful back shape with a double-level extra smooth curve, its epic crystal chin with a stylish foot stand design is so simple, stylish, and elegant. It brings not only power and reliability, but as clear as crystal, our PRO 20EX is also a beautiful addition to any home or office.

Get the Best Visual Experience
MSI PRO 20EX is equipped with the latest Intel® Kaby Lake processors with Intel HD graphics. It supports HDMI graphic output and 4K (3840 x 2160) video. Experience the high quality of 4K UHD and the best visuals at home or at office.

See more, Do more
Are you watching webpages and applications on a small single monitor? With the external output ports (HDMI/VGA), MSI PRO 20EX supports up to three monitors simultaneously. Allowing you to increase working efficiency with more possibilities in a large variety of situations.

Reversible connector,
Irreversible Efficiency.
Get all the performance benefits from USB 3.1 combined with the convenience of the USB Type-C connector. This reversible connector allows for effortless connecting of USB devices.
Complete I/O
With the complete I/O ports, PRO 20EX can satisfy all the devices which you need.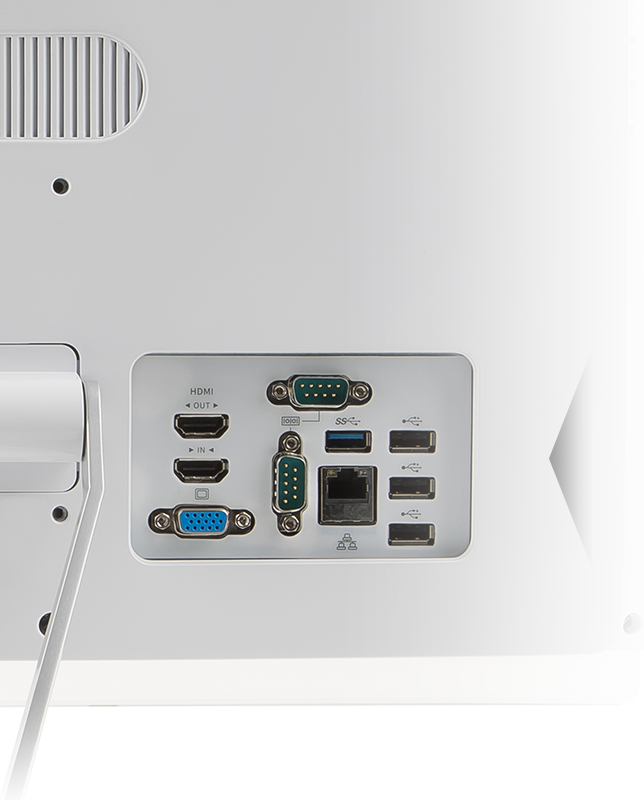 Instant Display Technology
With MSI Instant Display Technology, PRO 20EX becomes to monitor mode without AIO PC boot up. When devices are connected to the HDMI-in port, the monitor will be turn on immediately. This technology helps saving more energy for your system.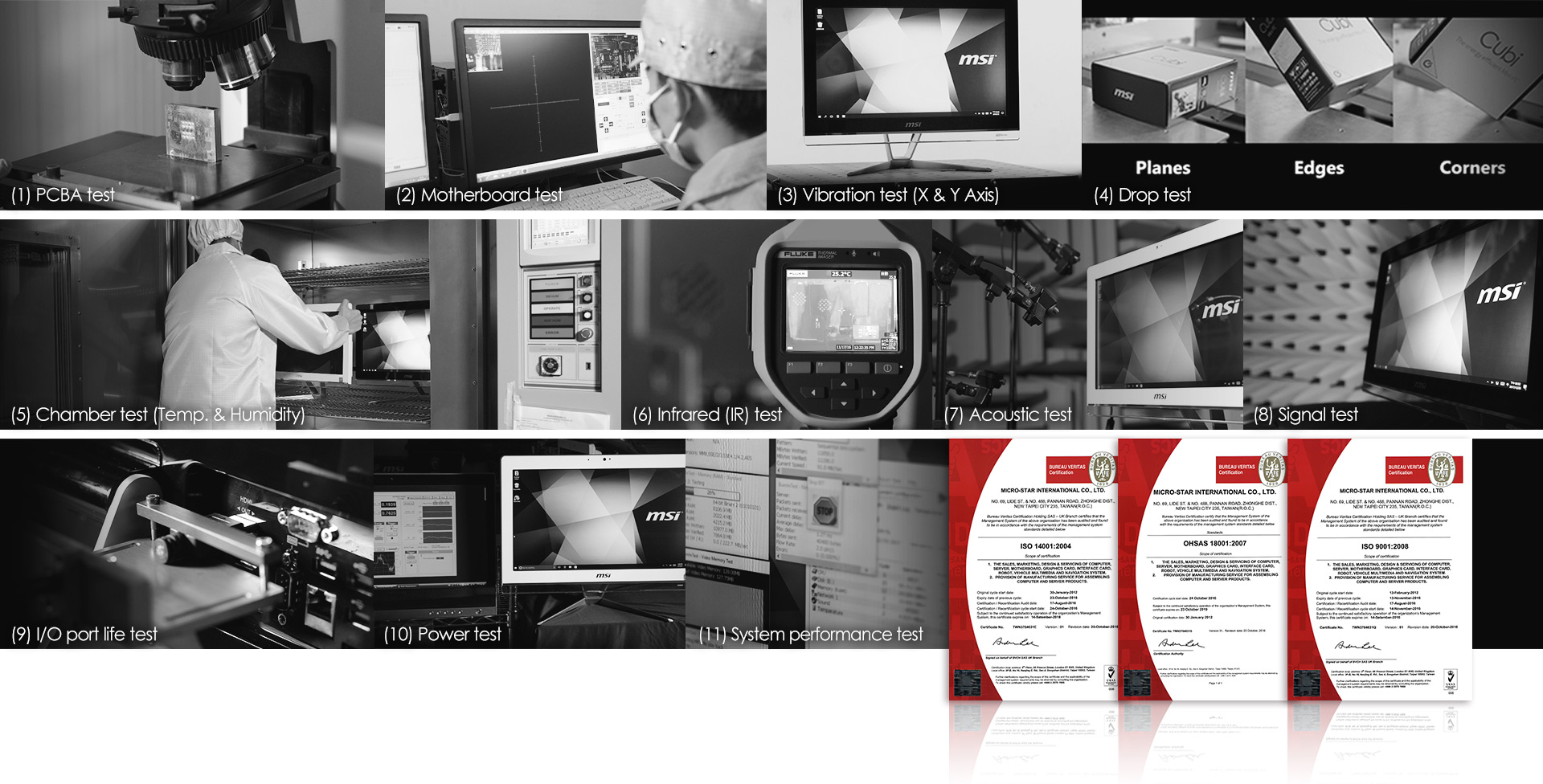 Military-grade hardware
MSI PRO series are equipped with military-grade components with SFC, Dark CAPs and Hi-c Caps providing excellent stability, power efficiency, and performance. These key components have passed U.S. Military Standard MIL-STD-810G certification and provide extra protection to ensure a stable operation.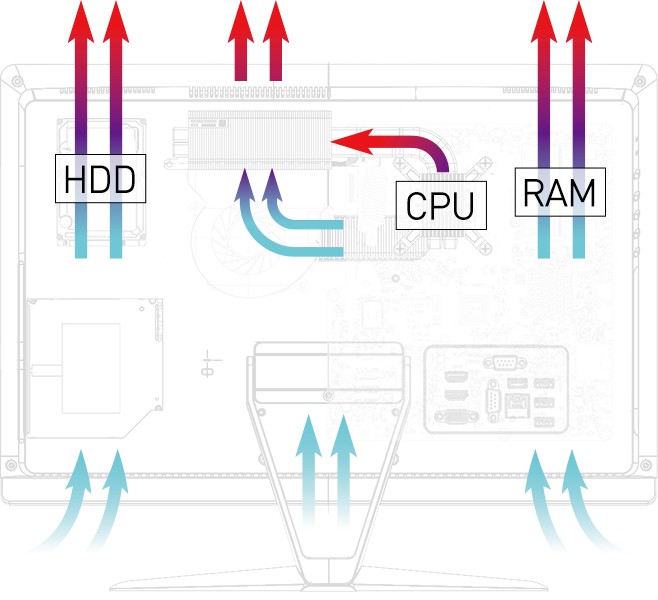 Silent PRO Cooling System
Separate Air Flow for the hottest key components
Our MSI PRO 20EX is equipped with a special cooling system, Silent PRO Cooling. Part of this system is the Server Grade Thermal Module with MOS Heat Sink that handles the cooling of different components within the system. Besides that we put the most important key components on the top side so warm air can easily move out and we separate the air flow to make sure the system's temperature stays perfectly under control for a cool and silent operation.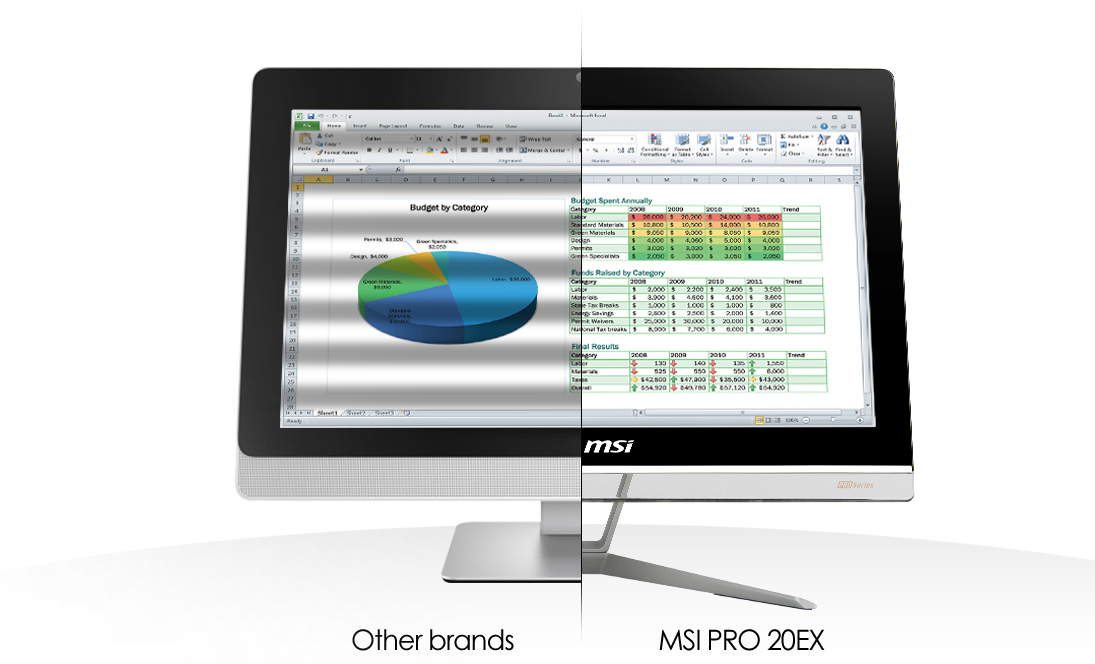 More stabilized monitor panel
The Anti-Flicker technology integrated into the display stabilizes the power current and prevents flickering that would be normally invisible to the naked eye under normal conditions. When used for extended periods of time, it effectively reduces eyestrain.

Less Blue Light Technology
The PRO 20EX display can effectively reduce blue light. Exposure to the blue light spectrum could cause serious long-term damage to your eyes.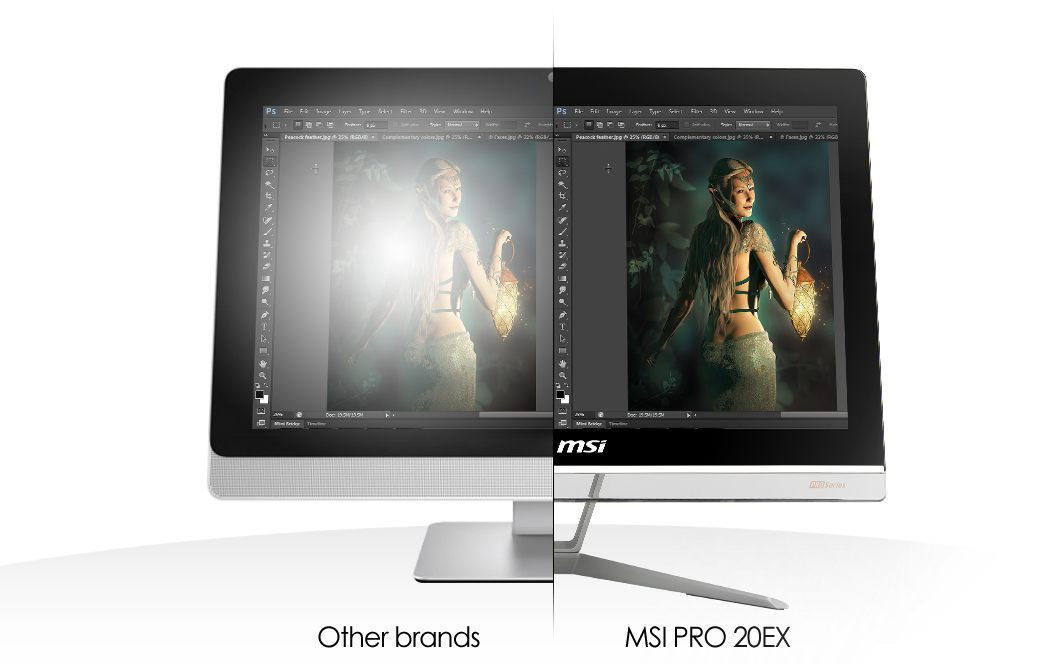 Anti-Glare Display
The Anti-Glare display is designed to cut down the amount of light that reflects off the display. Reflected light or glare can be very fatiguing to the eyes and reduces the contrast, colors and sharpness of the display. An anti-glare display makes viewing the display more pleasant for users, and reduces eyestrain.
Notice: only for non-touch models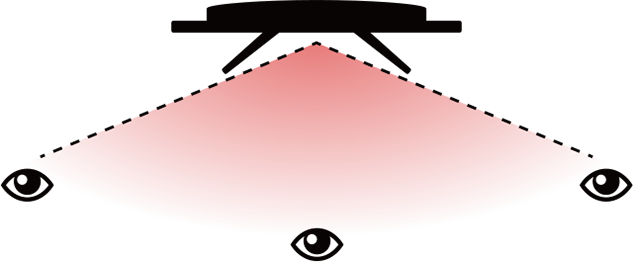 Wide Viewing Angles
The screen has a great monitor panel with an extremely wide viewing angle vertically as well horizontally of 178 degrees. The wide viewing angle allows you to have a consistent picture quality from any angle.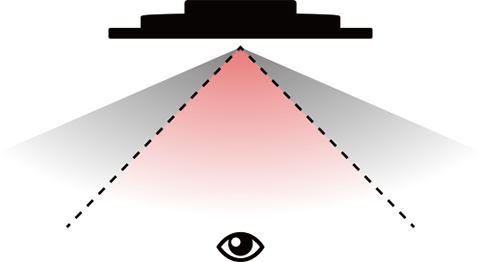 Narrow Viewing Angles
Traditional monitors have a limited viewing angle that prevents from seeing the content onscreen correct from all angels. When working together, it is more difficult to see the content.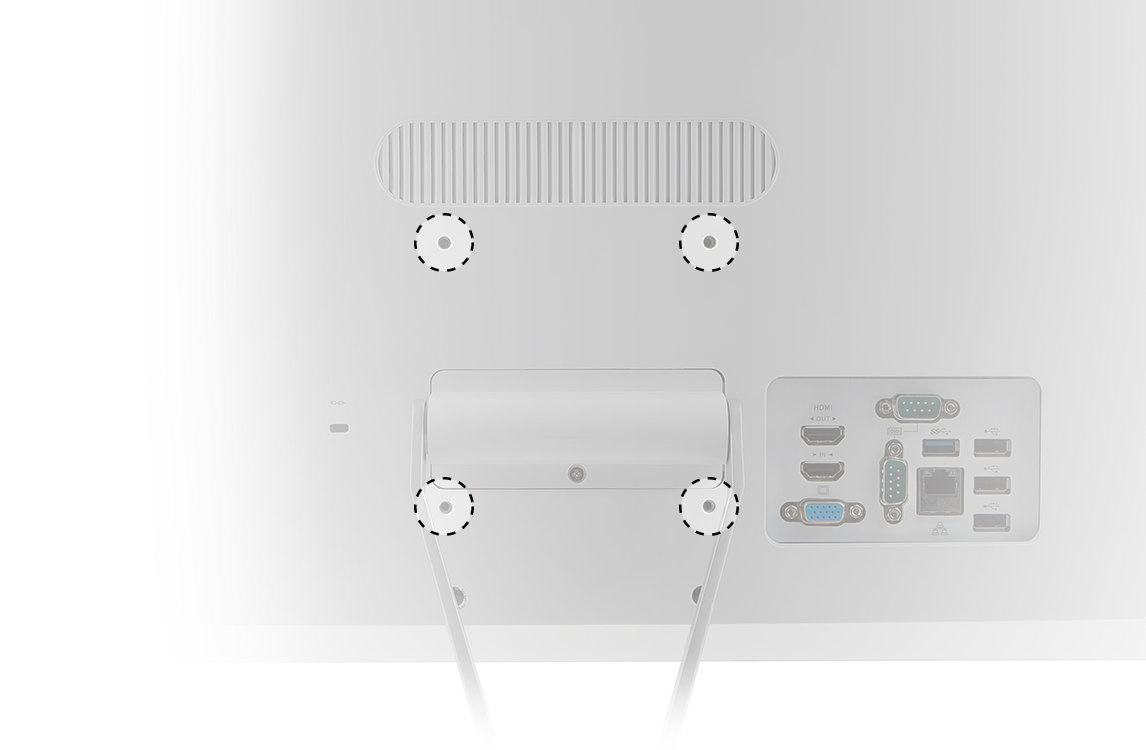 Wall Mount Support
PRO 20EX can be mounted to the wall in your office/ home, thanks to its supports of VESA-mount standards, which makes the PC completely invisible on a desk.

Your Commercial Supporter
Equipped with 2 COM ports and multiple USB ports, it will let you fully connect devices like barcode scanners, credit card readers, receipt printers etc. to make it an optimal cutting-edge platform for a variety of commercial projects. Altogether replacing existing commercial POS machines.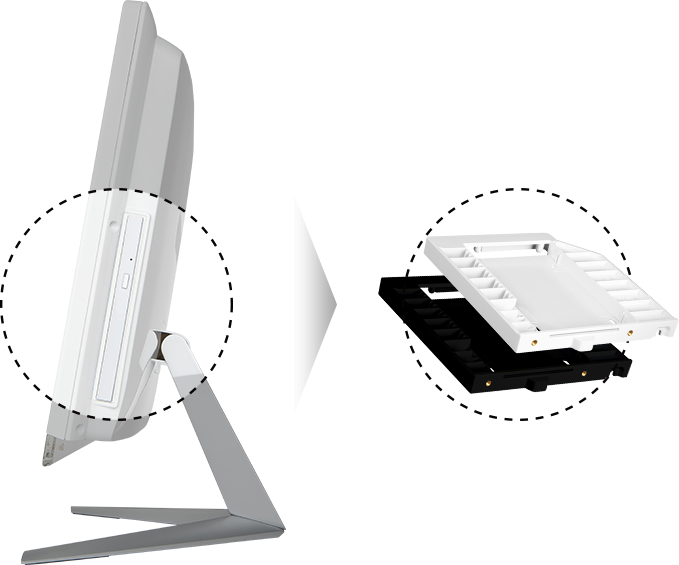 Easy extendibility with HDD Caddy
With HDD Caddy you can install a second internal hard disk drive (HDD) into your PC rapidly when you need extra storage or your HDD crashes, so that you can always continue your work. First you just insert your own HDD in the HDD Caddy and second you replace your optical drive (DVD or Blu-ray drive) with the HDD Caddy.
TPM:
Secure Your Confidential Data
TPM uses a mix of software and hardware to protect any important passwords or encryption keys. If a TPM chip senses that a system's integrity has been compromised by a virus or malware, it can start up in a quarantine mode to help fix the problem.
Hardware-based security, scan the BIOS for the unauthorized changes. If a TPM senses the hard disk is moved to another location, as might be the case if it were stolen, it locks the system.
If a TPM senses the hard disk is moved to another location, as might be the case if it were stolen, it locks the system.
The chip also enables smart-card readers, which certain companies require for user authentication and login.
Provide a safe storage of encryption keys, certificates and passwords used for logging in to online services, which is safer than storing them inside software on the hard drive.
The TPM can enable BitLocker Drive encryption utility to run a series of conditional tests to see if it's safe to boot up.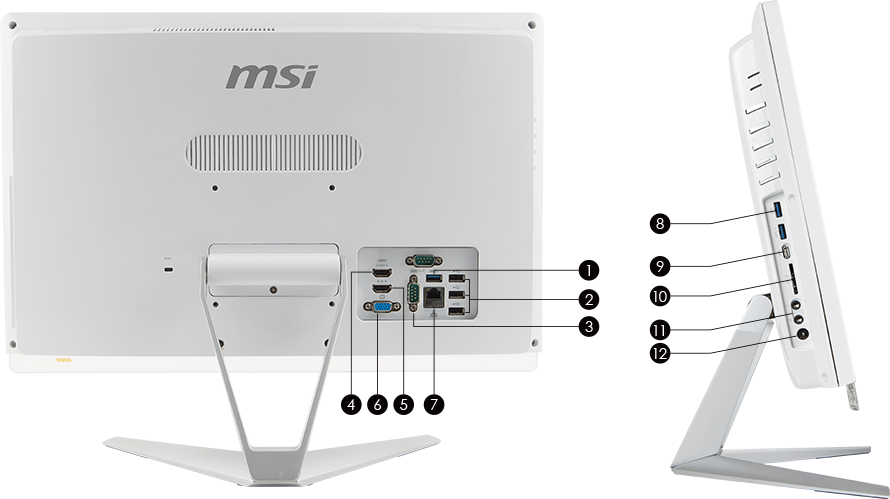 PRO 20EX I/O Overview
1.USB 3.1 Gen1 Type A x 1

2.USB 2.0 x 3

3.COM port x 2

4.HDMI-out x 1

5.HDMI-in x 1

6.VGA-out x 1

7.RJ45 x 1
8.USB 3.1 Gen 1 Type A x 2
(One is with Super Charger)

9.USB 3.1 Gen 1 Type C x 1

10.Card reader

11.MIC-in / Headphone-out

12.DC-in

Find more details about many of these projects on:

Countless of successful B2B projects

Over the past years, MSI has successfully supported Countless of commercial projects, including government tenders, restaurant & hotel facilitation, shopping mall navigation projects, school & university developments and professional office projects
Technical Specifications
CPU
Intel® Pentium® Gold Processor 4415U (2M Cache, 2.30 GHz)
Memory
4GB DDR4
Graphics
Intel® HD Graphics
Storage Disk
128GB SSD
Optical Drive
No
LCD Size / Panel Resolution
"main display: 15.6"" LCD Panel LED Backlight (1366*768) second display: 10"" LED backlight none touch"
Touch Panel
Touch
Keyboard / Mouse
Wired
Ports
LAN
Yes
Wireless LAN
Yes
USB 2.0
2
Bluetooth
Yes
COM
2
VGA Out
1
Printer
1xParallel
USB 3.1
4
Facilities
Card Reader
(3in1 (SD, MS, MMC