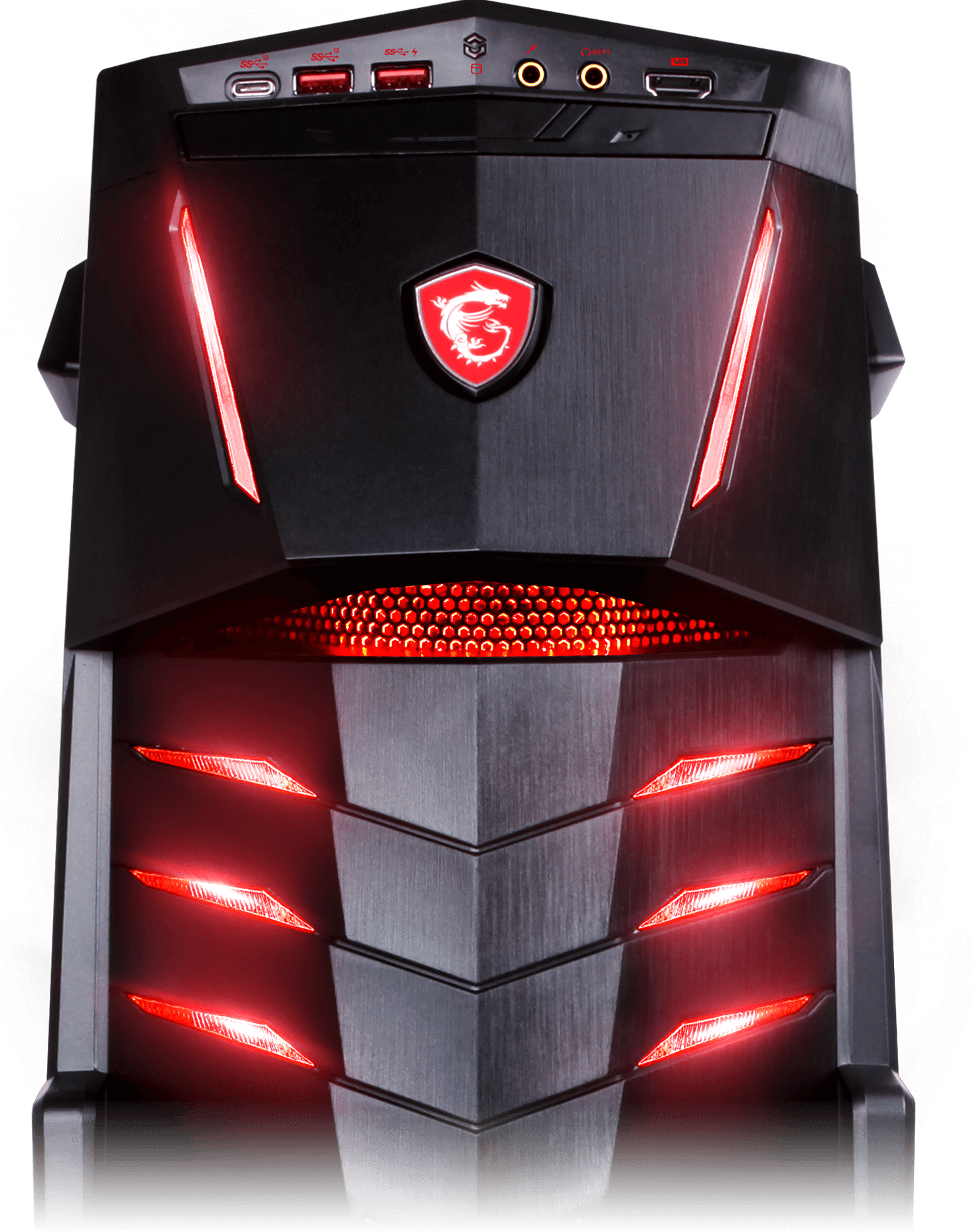 HARNESS THE POWER OF GAMING
Unmatched in performance and extraordinary in design, the Aegis Series are at the top of MSI's Gaming desktop line-up and meant for gamers that demand the very best. Armed with the most advanced graphics cards, the most refined audio technologies, the best cooling and packed with unlimited gaming features. The Aegis Series are the best of the best of true PC gaming.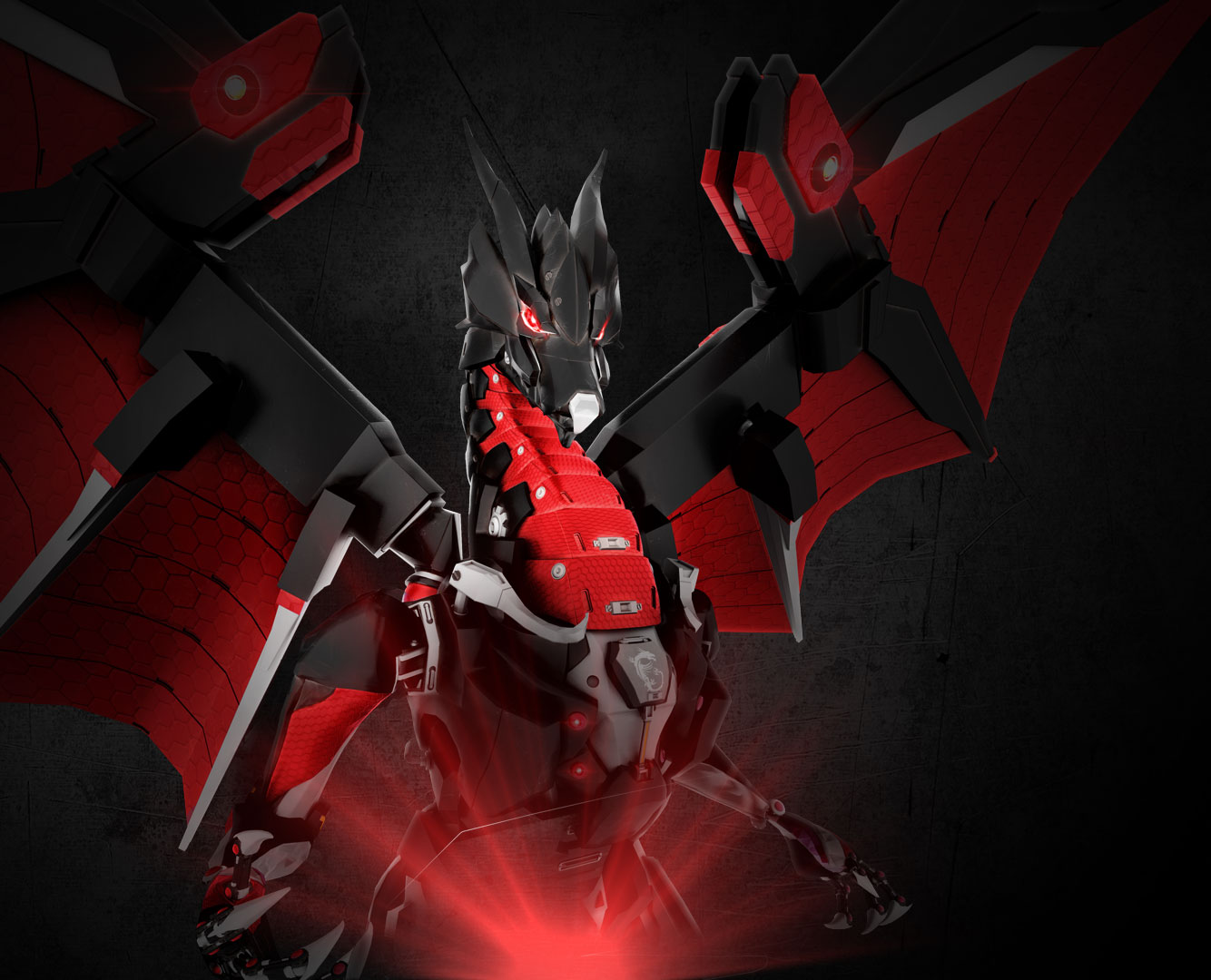 Each MSI GAMING Desktop has its own set of unique advantages, developed with MSI's G.A.M.E. Unlimited values in mind. Entrenched with Gaming Performance, Absolute Gaming DNA, Magnificent Audio and Essential connectivity, MSI gaming desktops will get you to game unlimited
7TH GENERATION INTEL® CORE™ i7 PROCESSORsperformance enhancement of smoother VR experience.
MSI gaming desktop with the latest Intel® Core™ i7 processors. Moreover, the CPU multi-thread performance increases 20% compared with that of previouse generation. CPU multimedia performance is around 10% faster than previouse generation. 4K video decoding/transcoding is also improved by 8%~10%, depending on the software optimization performance.The new media engine also delivers power-efficient VP9 and HEVC 10-bit hardware acceleration. 4K video playback with HDR visual quality is therefore significantly improved versus previous generation processors.The perfect combination of MSI gaming features and the 7th Generation unlocked Intel ® Core™ i7 K Processors shall bring you up to 25% performance enhancement of smoother VR experience.
*The overclock function may vary by model (only available on K series CPU models) and the overclock capability may differ depending on the CPU limitations.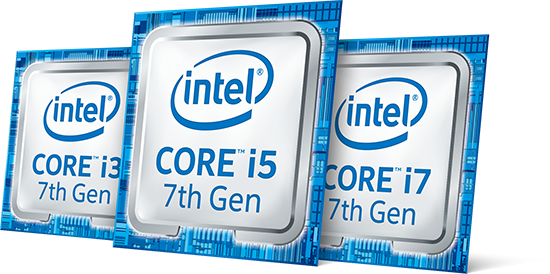 NVIDIA'S LATEST GEFORCE® GTX 10 SERIES GPU IS READY TO AMAZE YOU ON MSI GAMING DESktopetely on MSI
MSI gaming desktops are equipped with the latest NVIDIA next gen graphics card. Performance of the NVIDIA's next generation GeForce ® GTX 10 Series Pascal graphics card is improved more than 60% comparing to specific models of the GeForce® GTX 9 Series. With MSI's unique cooling system and special gaming features, the NVIDIA's latest GeForce ® GTX 10 series graphics card shall be able to release its full performance completely on MSI gaming desktops.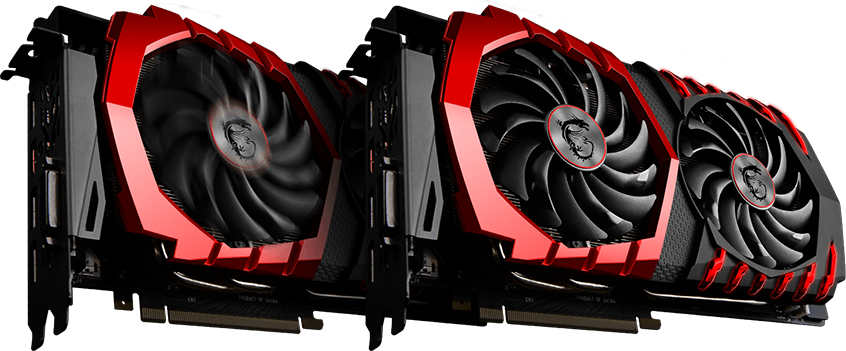 INTEL® OPTANE™ READY
Get in the game even faster with Intel® Optane™. This new technologic marvel brings game-changing performance to memory and storage devices. Allow Optane™ caching to boost your storage devices for an even faster system!
GAMING COMPONENTS
BUILT WITH REAL GAMING COMPONENTS
The components within an MSI Gaming Desktop are selected and tweaked to get you the best performance and experience while gaming. This is not just a PC. It's a True Gaming PC.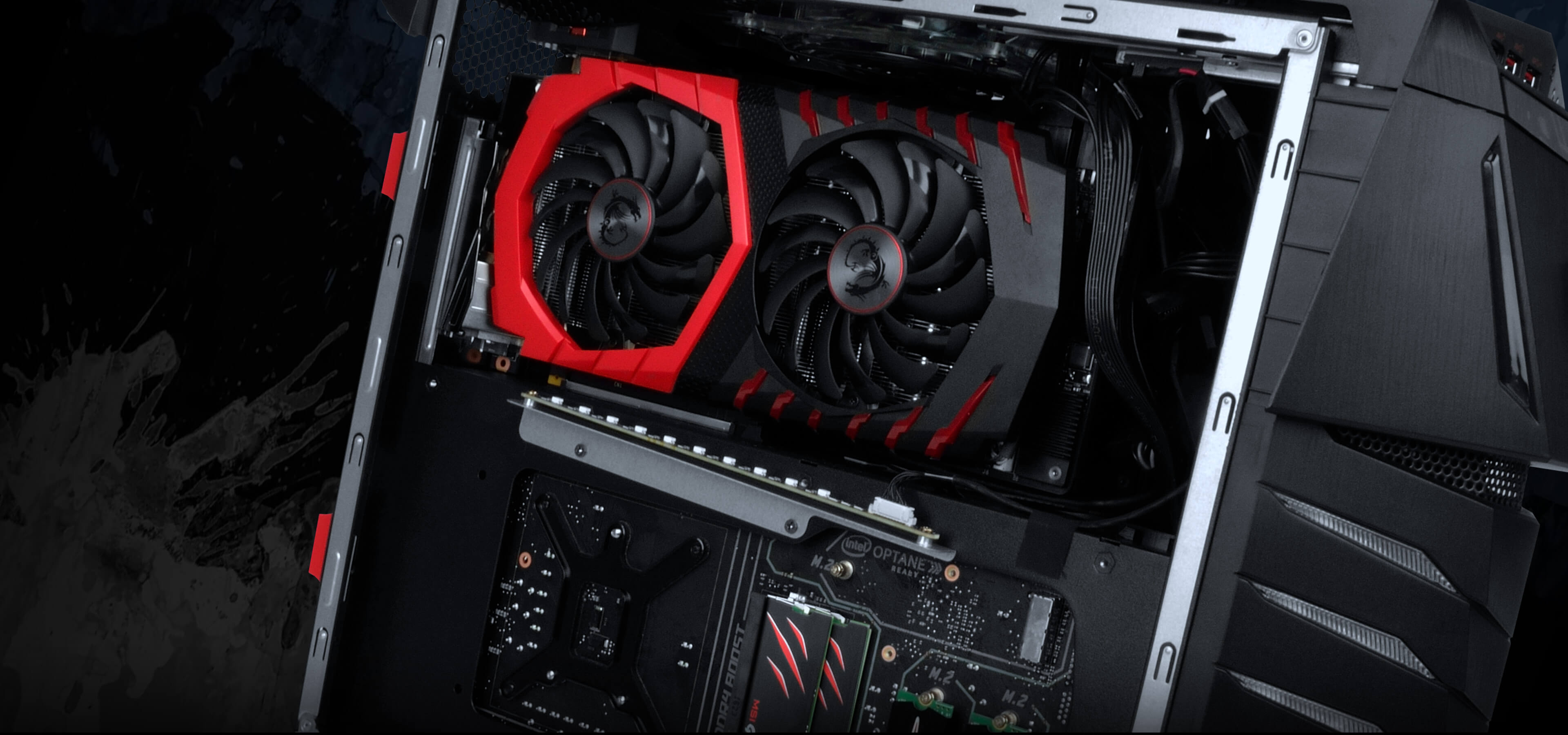 REAL GAMING GRAPHICS
Armed with MSI's award-winning GAMING Graphics Card instead of a standard reference card, you'll enjoy the best in game performance while the supreme TWIN FROZR VI cooler keeps your graphics card cool and quiet. Welcome to a True Gaming PC!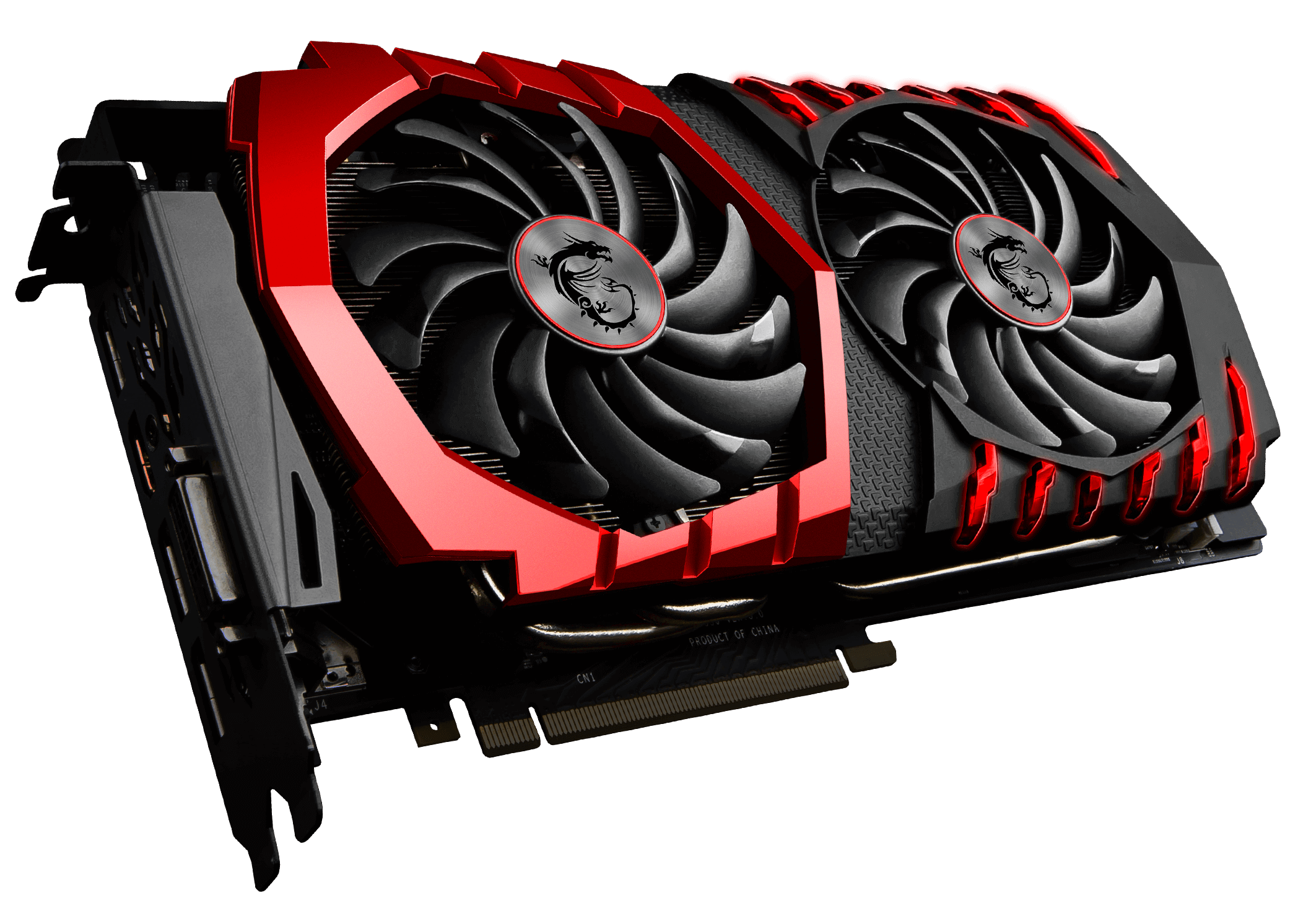 DOUBLE THE POWER WITH SLI
Push your framerates through the roof with the ultimate MSI GAMING SLI setup powered by the MSI HB SLI bridge. Run the most demanding VR and 4K games without breaking a sweat.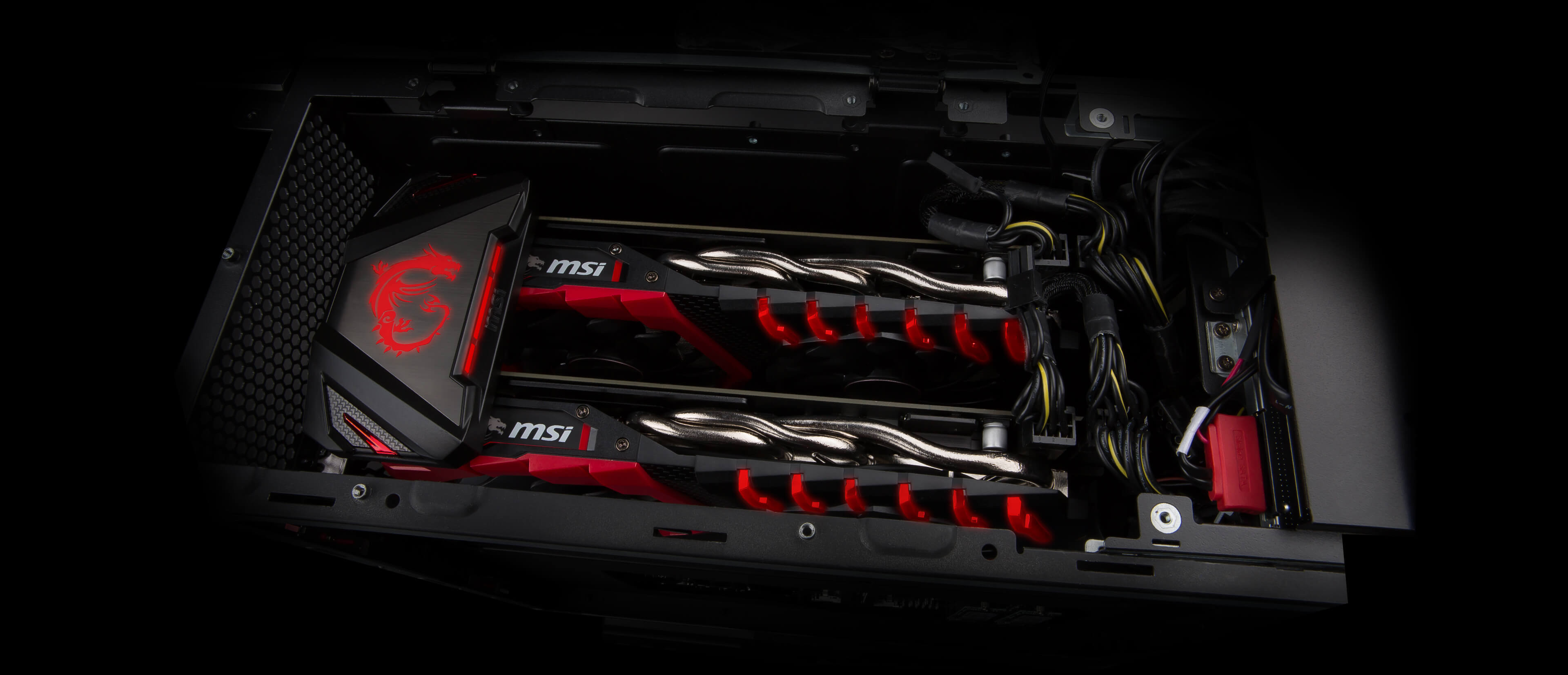 MORE POWER WHEN YOU NEED IT!
At the heart of this Gaming Desktop is a powerful unlocked Intel® Core™ K-series processor that can be overclocked without using complicated software or having to open the case. With a single push of the Dragon button on the front, the hardware inside is amped up in speed and performance, making games and other demanding computing tasks run even smoother.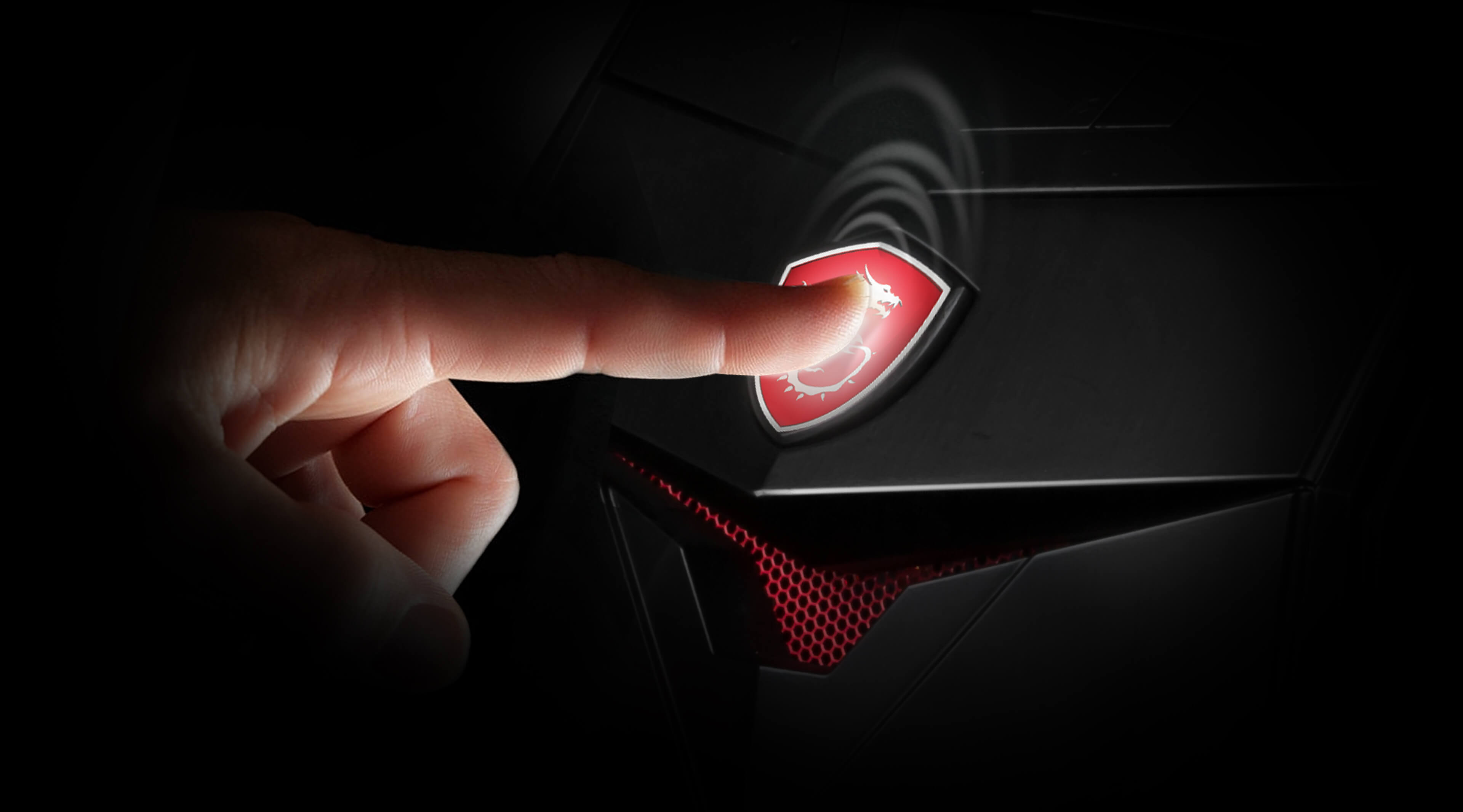 INTEL® OPTANE™ READY
This new technological marvel brings game-changing performance to memory and storage devices. Allow Optane™ caching to boost your storage
* Intel, the Intel logo, Intel Optane and the Intel Optane logo are trademarks of Intel Corporation or its subsidiaries in the U.S. and/or other countries.
LOAD GAMES IN SECONDS WITH SUPER RAID 4
Get in the game before everyone else with Super RAID 4, MSI's fastest RAID 0 storage configuration. Combining dual PCI-E Gen 3.0 x4 SSD's utilizing NVMe technology, harness the full performance potential of M.2 SSD's outputting extreme read speeds of over 3300 MB/s.
Loading save game - Fallout 4
VR
IMMERSE YOURSELF
Integrating the very best of cutting edge technologies on MSI hardware provides a smooth VR ride. Through joint efforts with major VR brands, combined with unique MSI features geared to VR, MSI brings gamers and VR professionals a vivid and realistic experience in which content truly comes alive.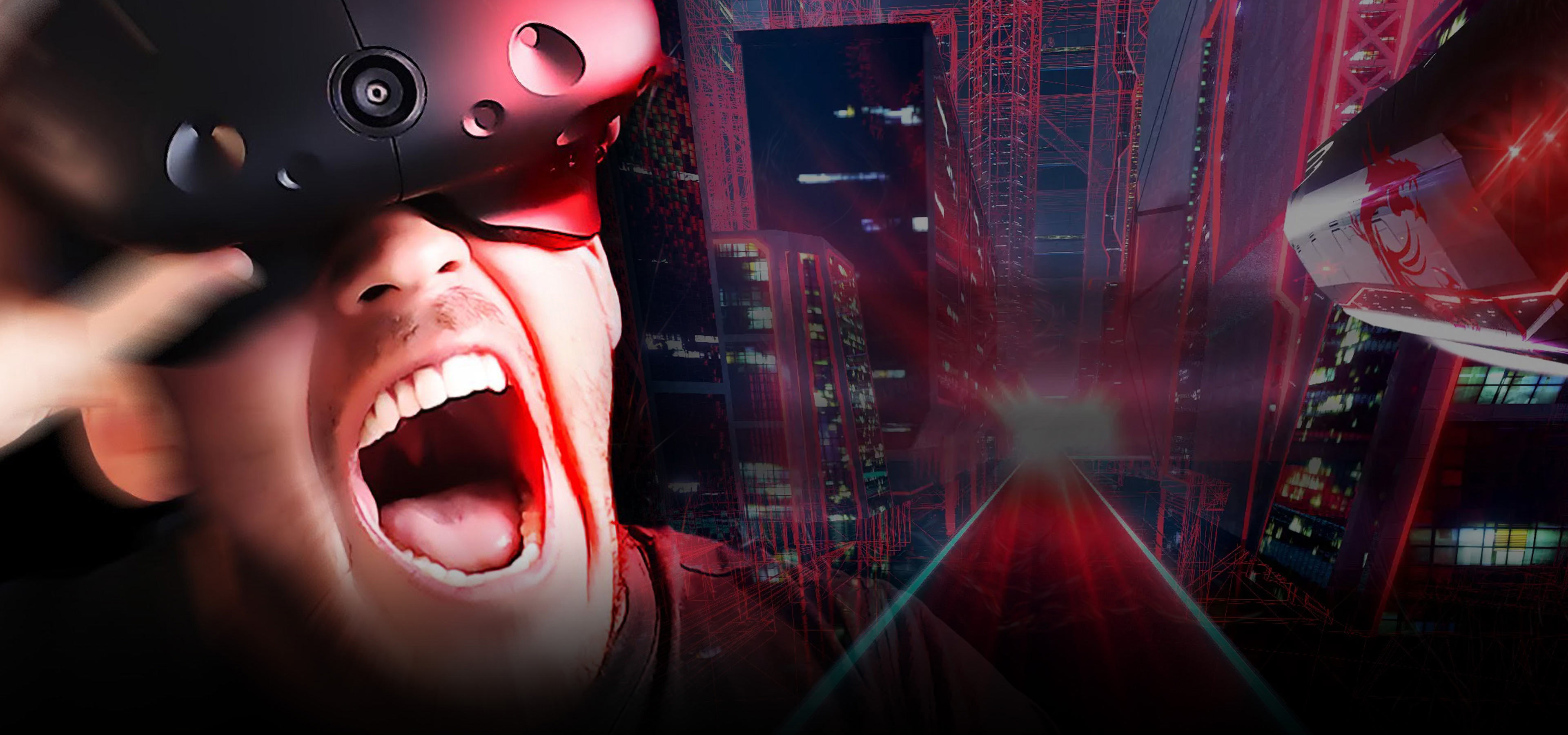 GET READY TO BE OVERWHELMED BY THE REALMS OF VR
From the start of Virtual Reality, MSI has been deeply involved in making VR Ready hardware in each of its product lines. Whether it's a feature-rich motherboard, a framerate boosting graphics card or a blazing fast complete gaming system, a huge set of VR-supporting features awaits you.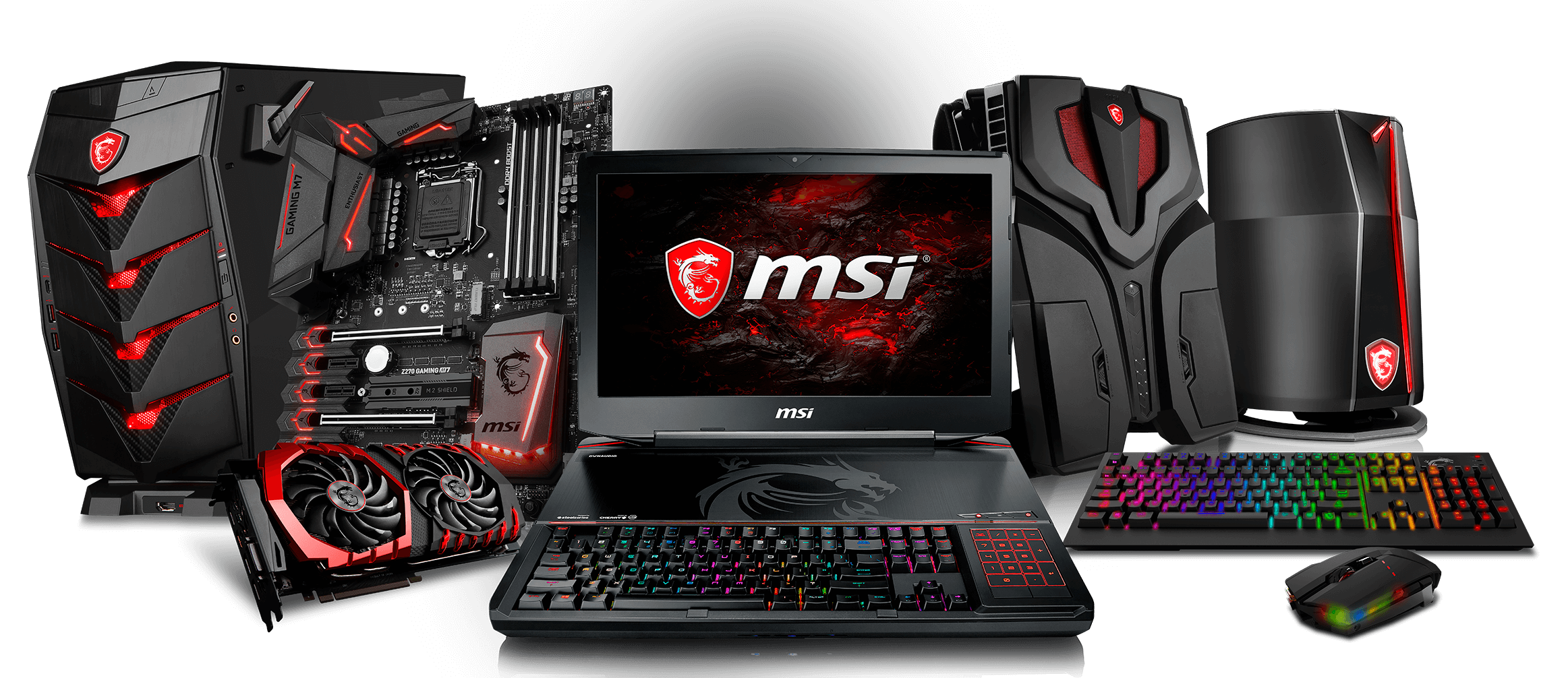 OPTIMIZED FOR THE BEST VR BRANDS
Want the best of the best VR experience without any compromise? MSI Gaming Desktops offer everything you need when exploring the possibilities of VR. By closely working with the industries' leading VR vendors, we make sure you get the best possible gaming experience when choosing Virtual Reality.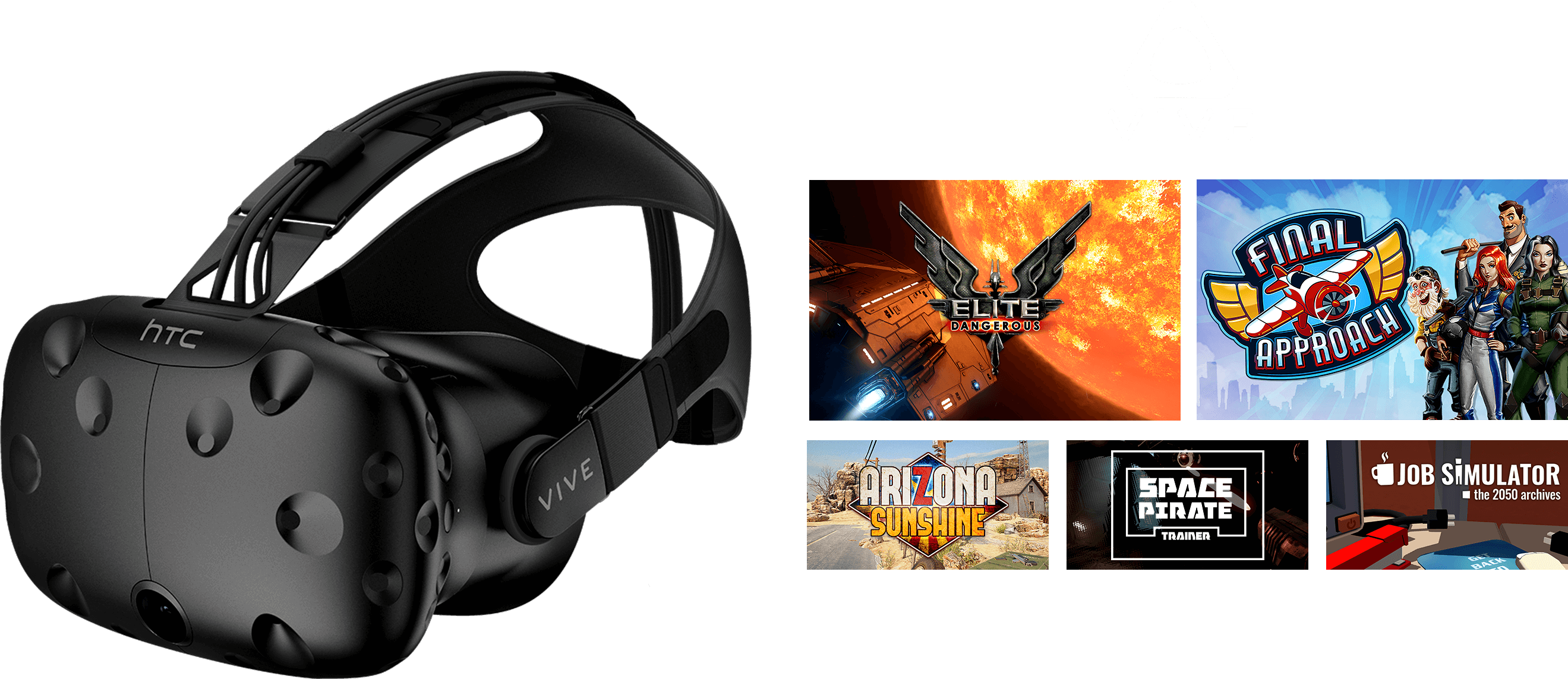 PULL YOURSELF INTO THE GAME WITH VR LINK
Only MSI Gaming Desktops are weaponized with VR Link. When using an expensive VR headset, you'll want it to have the best signal to and from your PC. VR Link features a special front HDMI out port for easy access when connecting your VR device so you don't have to find a part on the back of your PC, giving you a smooth VR experience.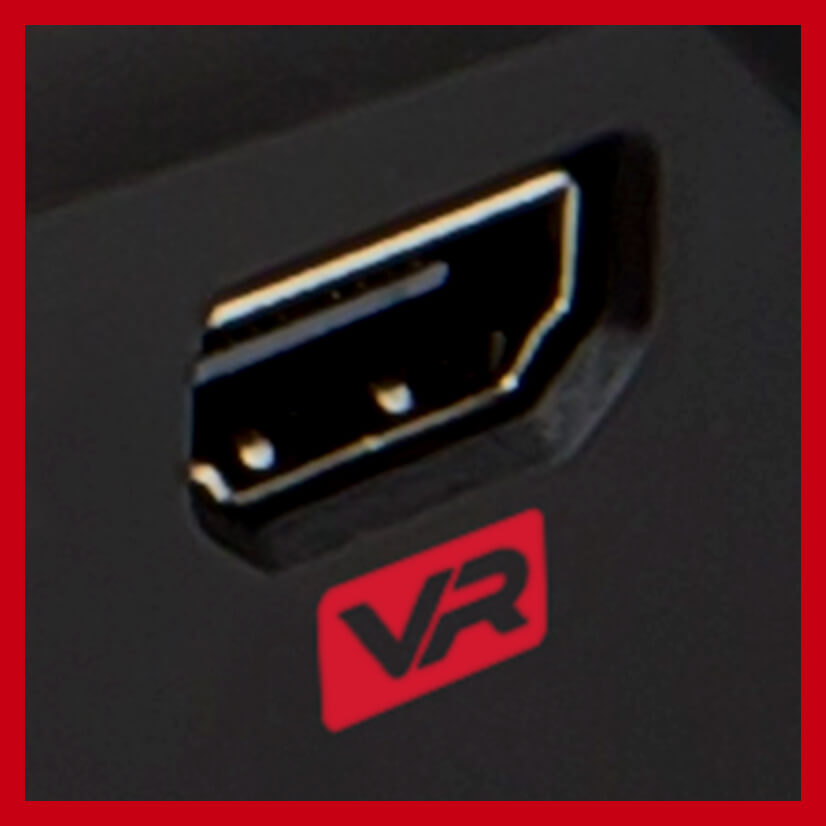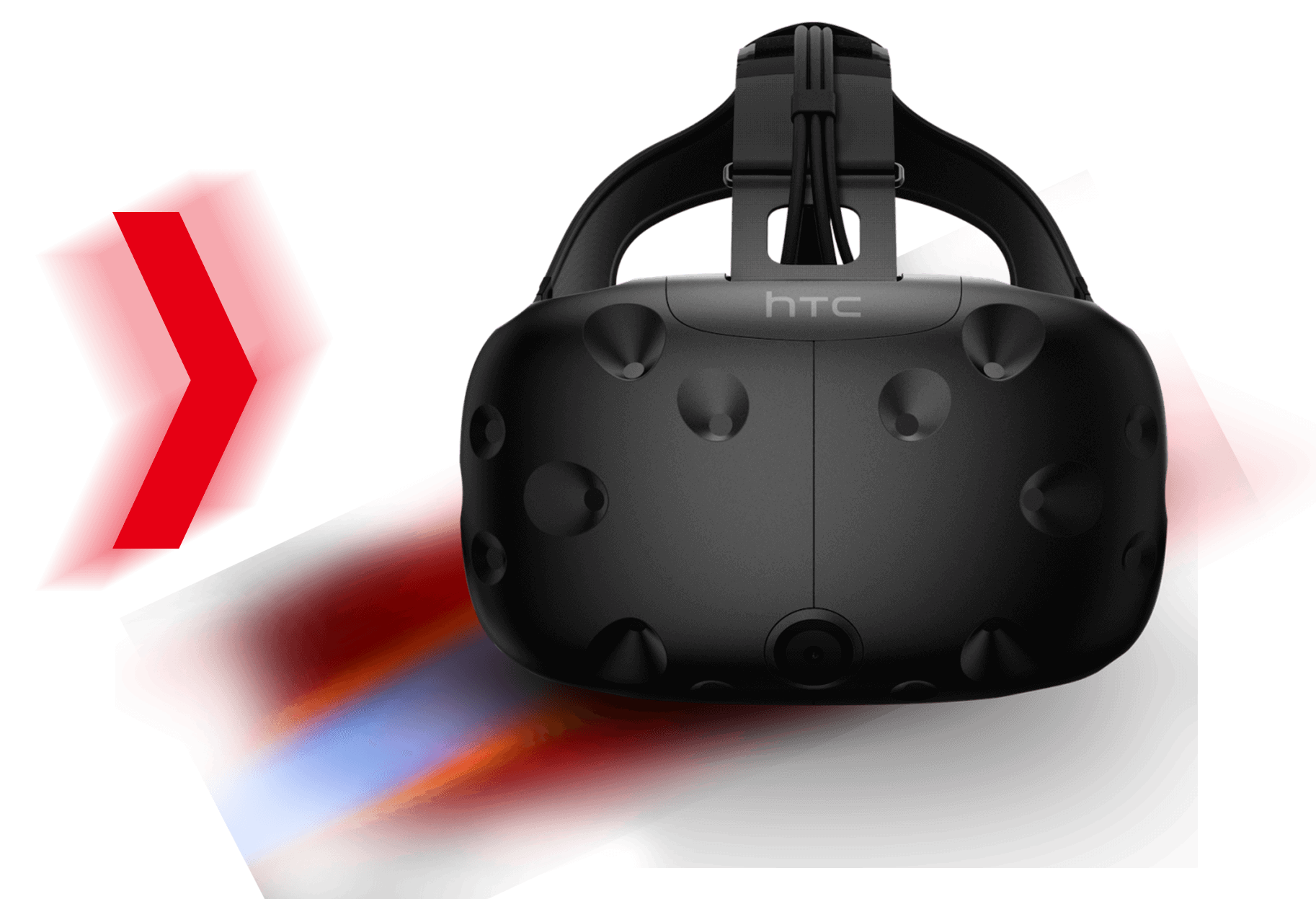 STRAIGHT INTO THE ACTION WITH ONE CLICK TO VR
Both hard- and software need to be in tune for a smooth VR experience. Found in the MSI Gaming Center app, One Click to VR makes it very fast and easy to get primed for VR. A single click sets all your key components to their highest performance and makes sure other software applications won't impact your virtual adventure.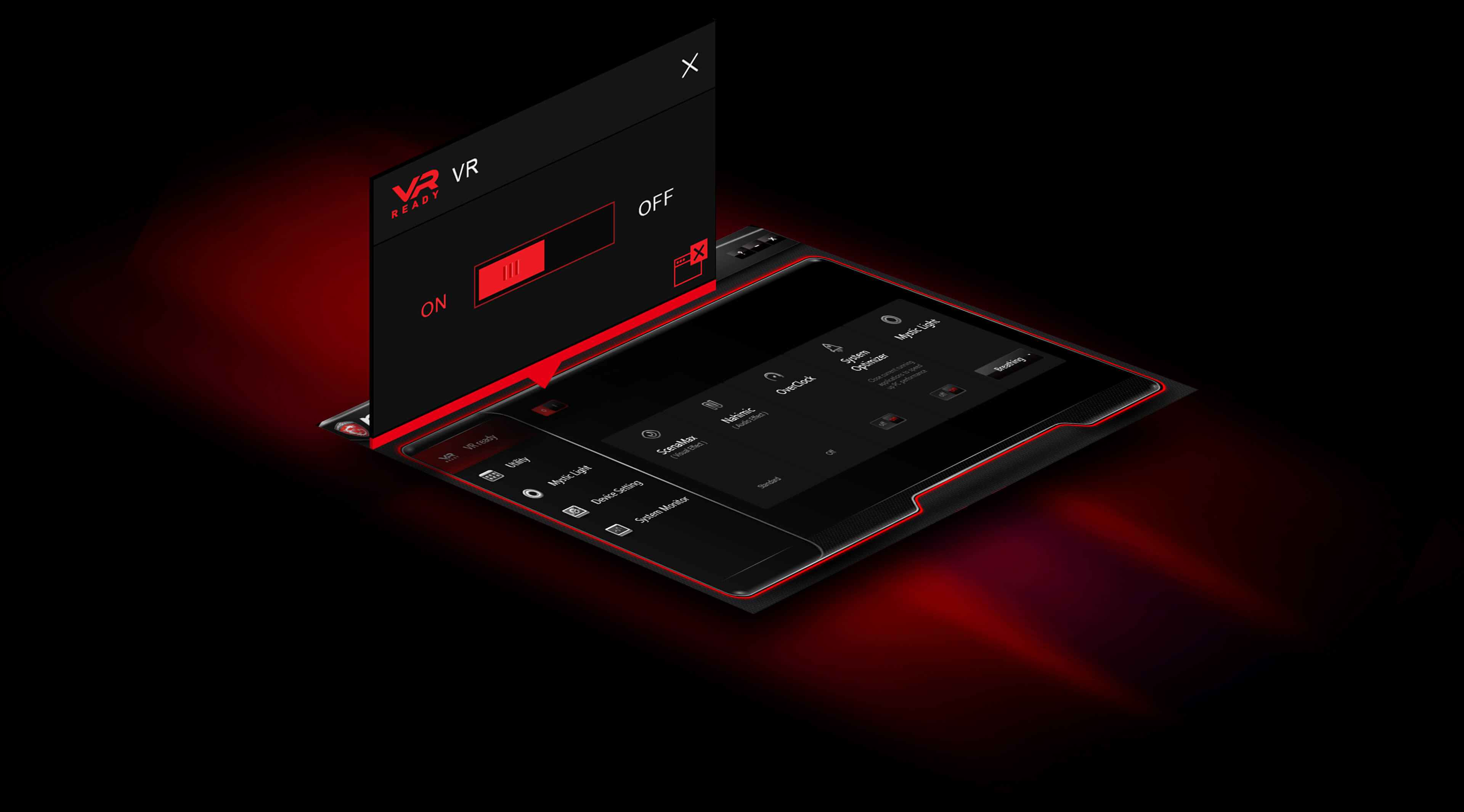 UNMATCHED DESIGN
BREATHTAKING DESIGN
Housing all this high-powered hardware, MSI Gaming Desktops have a characteristic, breathtaking case design that is incredibly easy to use. Get the real gaming look!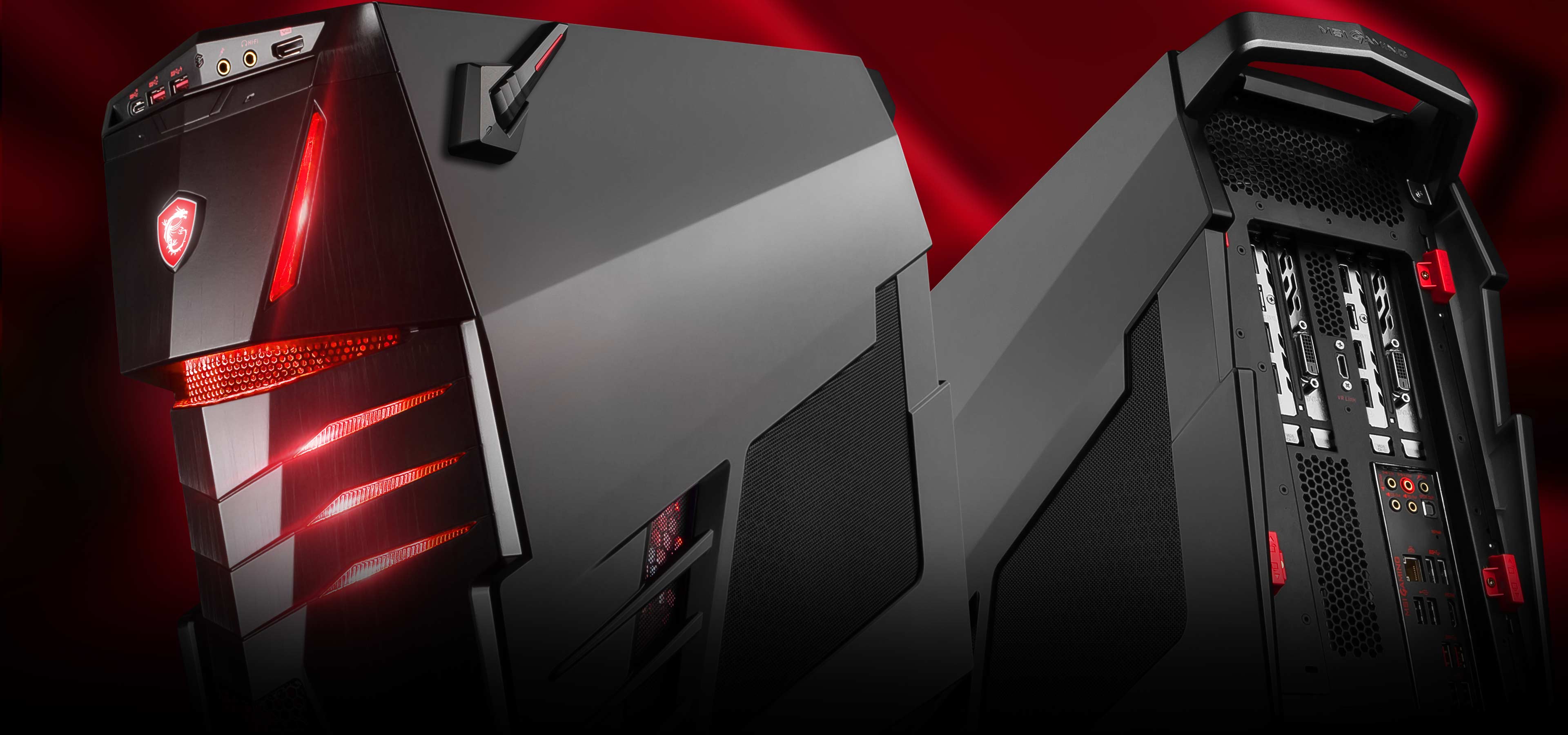 MYSTIC LIGHT
Customize your Gaming Desktop with Mystic Light. Make your build look on fire or cold as ice. You are in control. You can select any of the colors from the palette to match your system's design, and plenty of LED effects to choose from.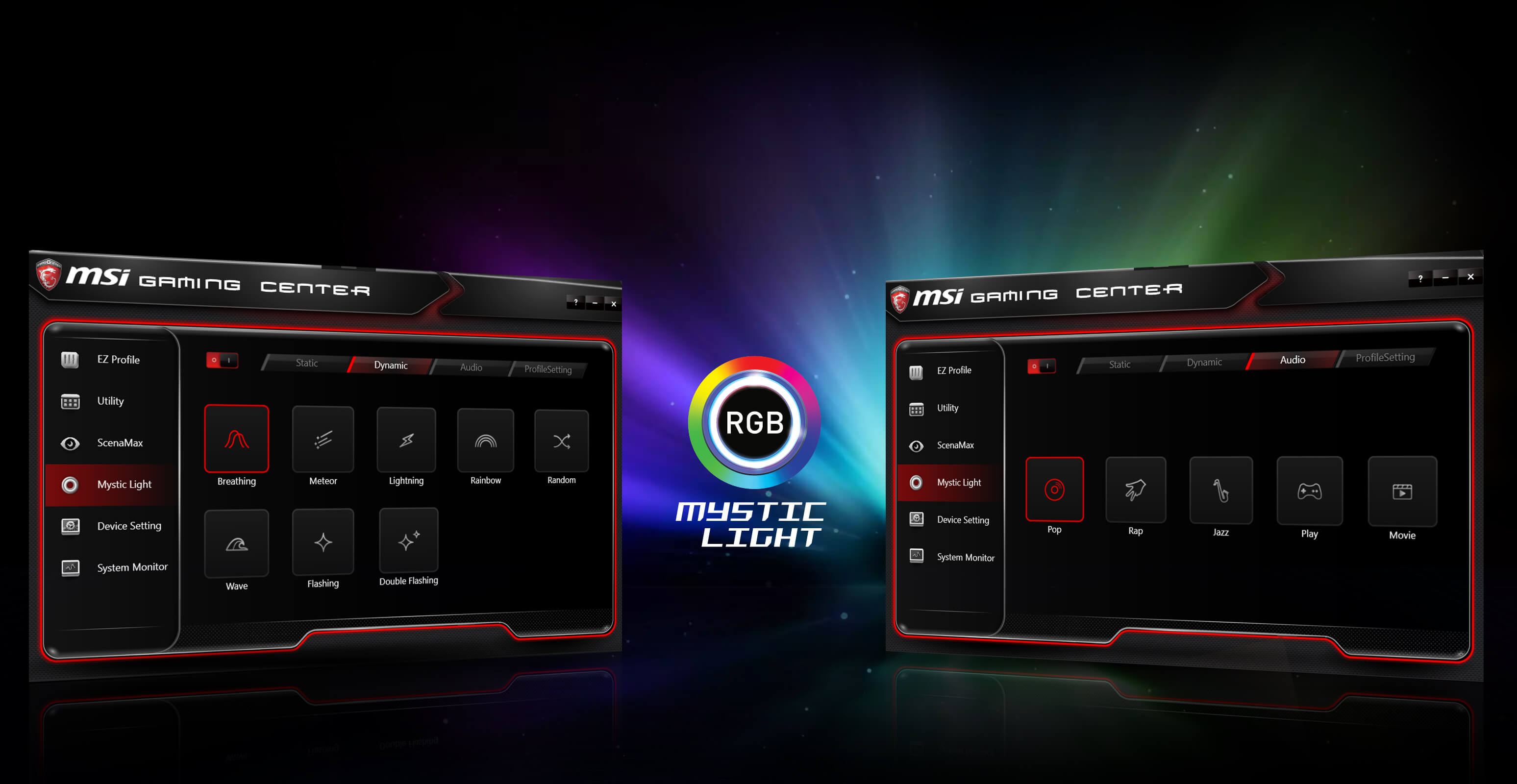 CREATE YOUR OWN STYLE
Unleash your inner artist and create your own Mystic Light profile. With the new "user define" mode you can create your own Mystic Light effects and share them with your fellow gamers. Build a whole Gaming Desktop army with the same RGB LED effects!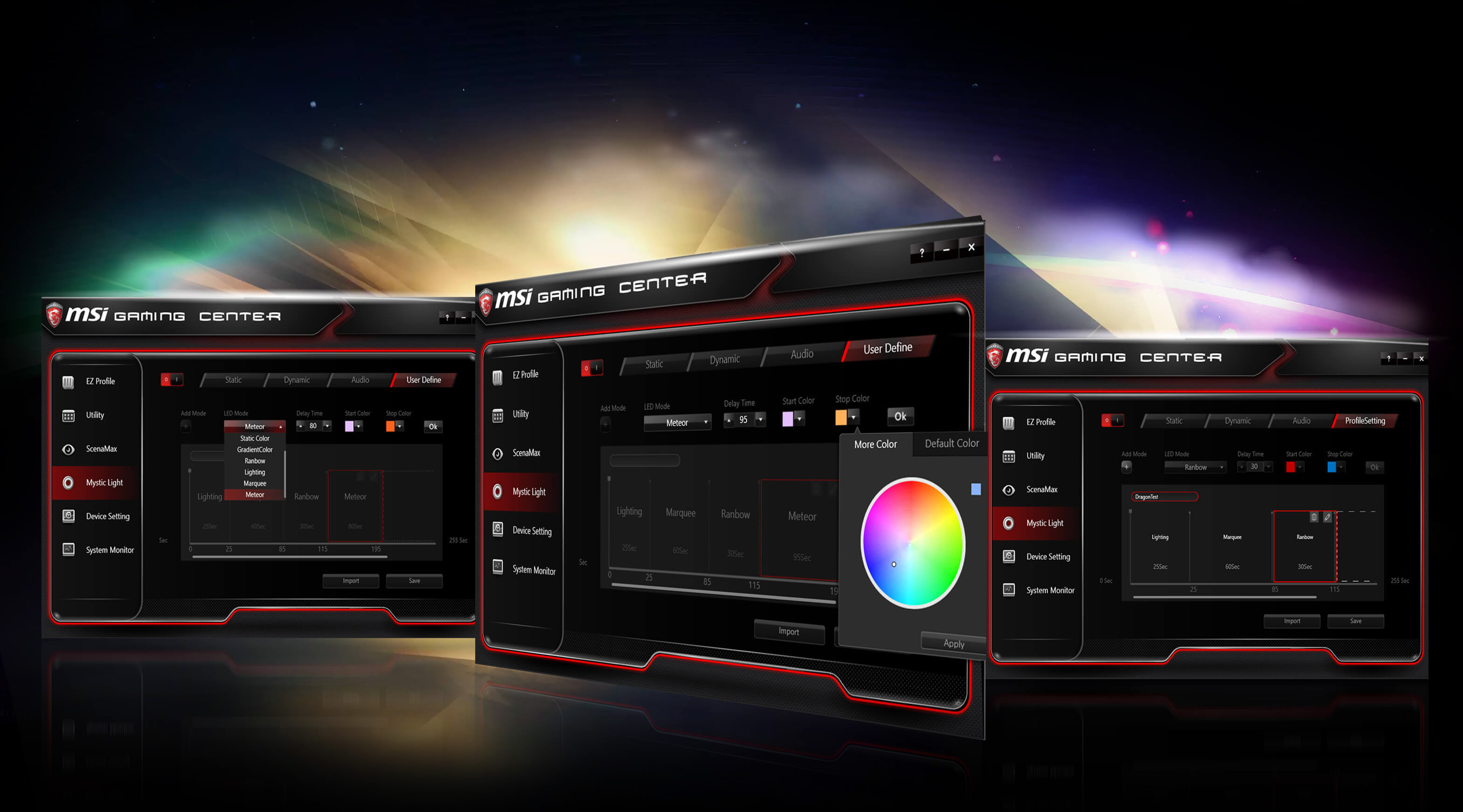 SMARTPHONE & PC CONTROL
Create your own colorful masterpiece with ease. The easy to use Mystic Light APP is available on PC, phone and tablet. It offers remote control, simply using your smartphone or tablet. Make your PC look & feel brand new with any color you want with just a few clicks!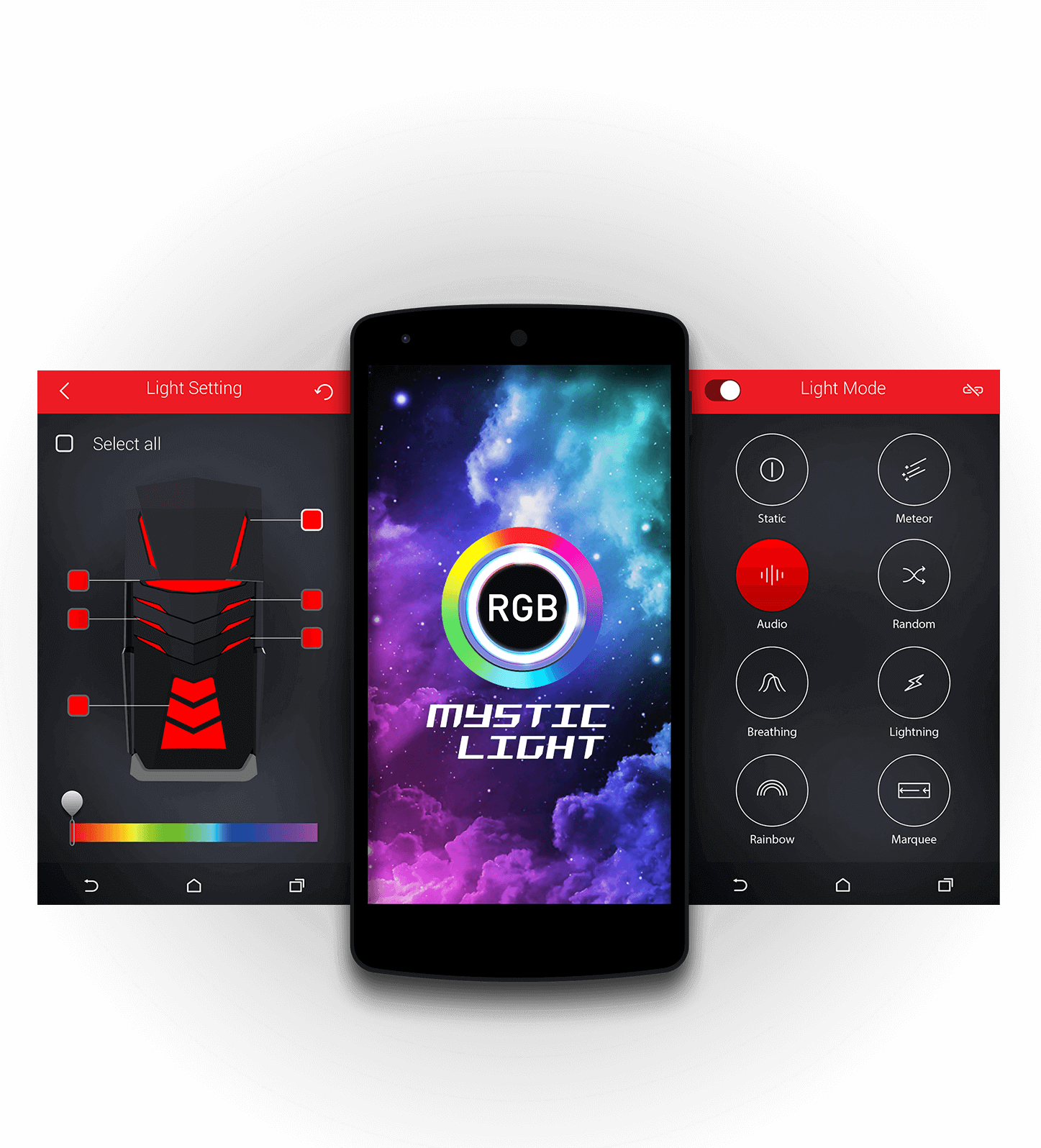 GET STARTED WITH MYSTIC LIGHT
To use Mystic Light, download the latest version of the MSI Gaming App below. For remote control of Mystic Light, simply download the latest version of the Mystic Light App for your smartphone from the Google Play Store or the App Store using the links below.
EASY TO CARRY
Going to a LAN-party, visiting a friend or just feel like taking your Gaming Desktop anywhere you go? A sturdy handle is built into the case to simply pick up and carry this Gaming beast around from one Gaming den to the next.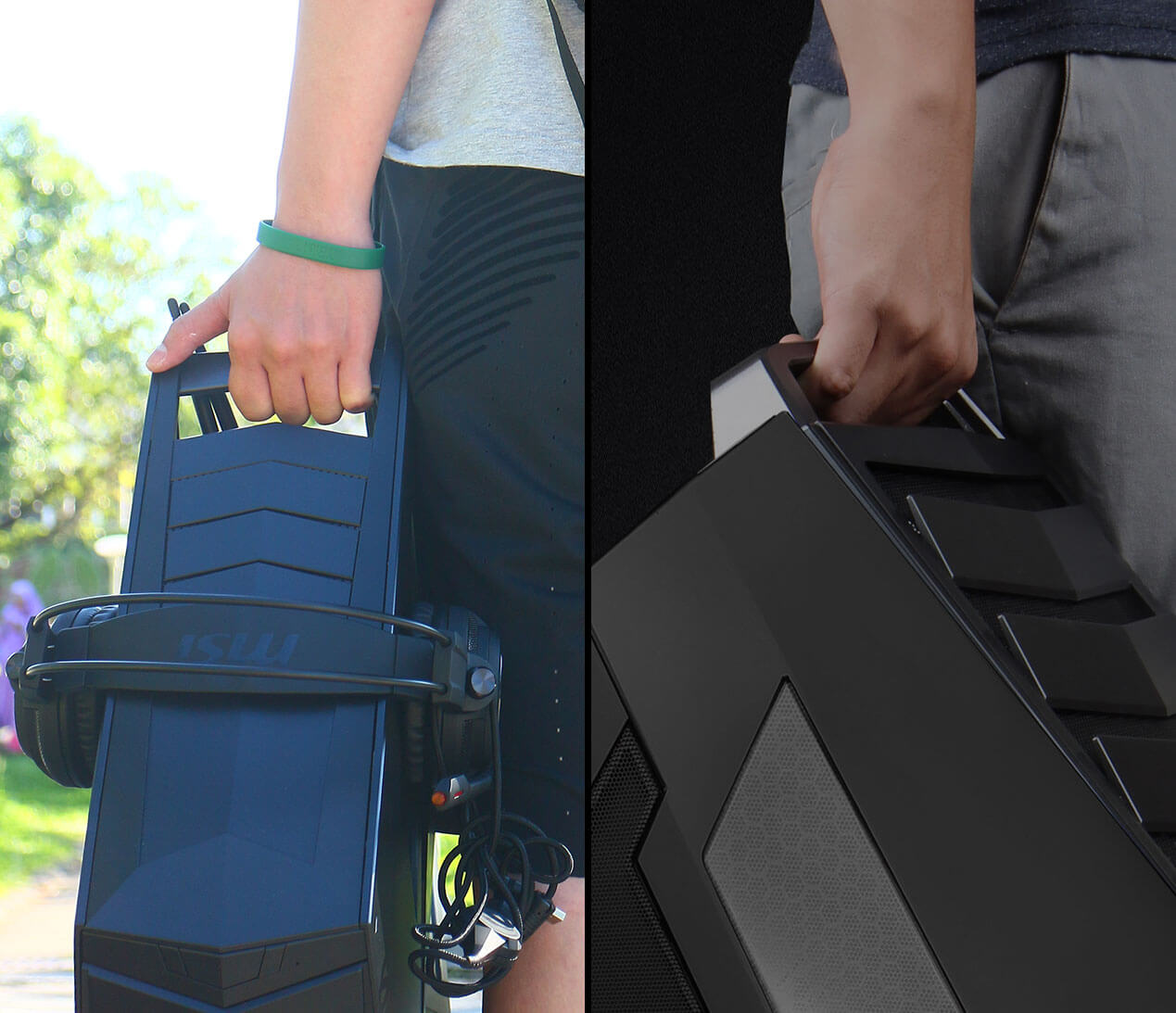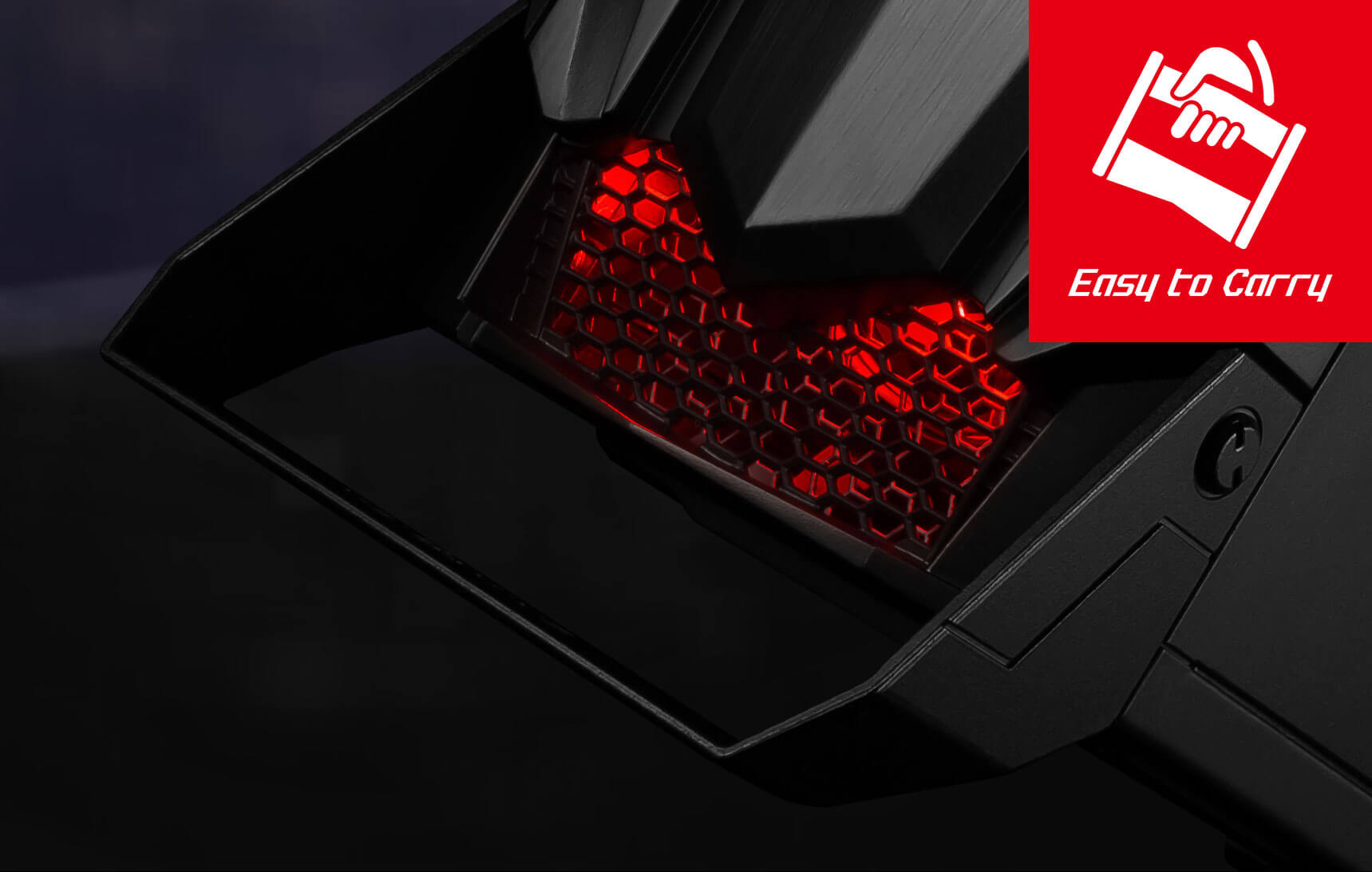 NEVER LOSE YOUR SOUND
Keep your headset close to your battle station. This MSI Gaming Desktop is equipped with a handy headset holder. Simply unfold the arm and place your headset. MSI Gaming Desktops don't just store your favorite games, but also your headset.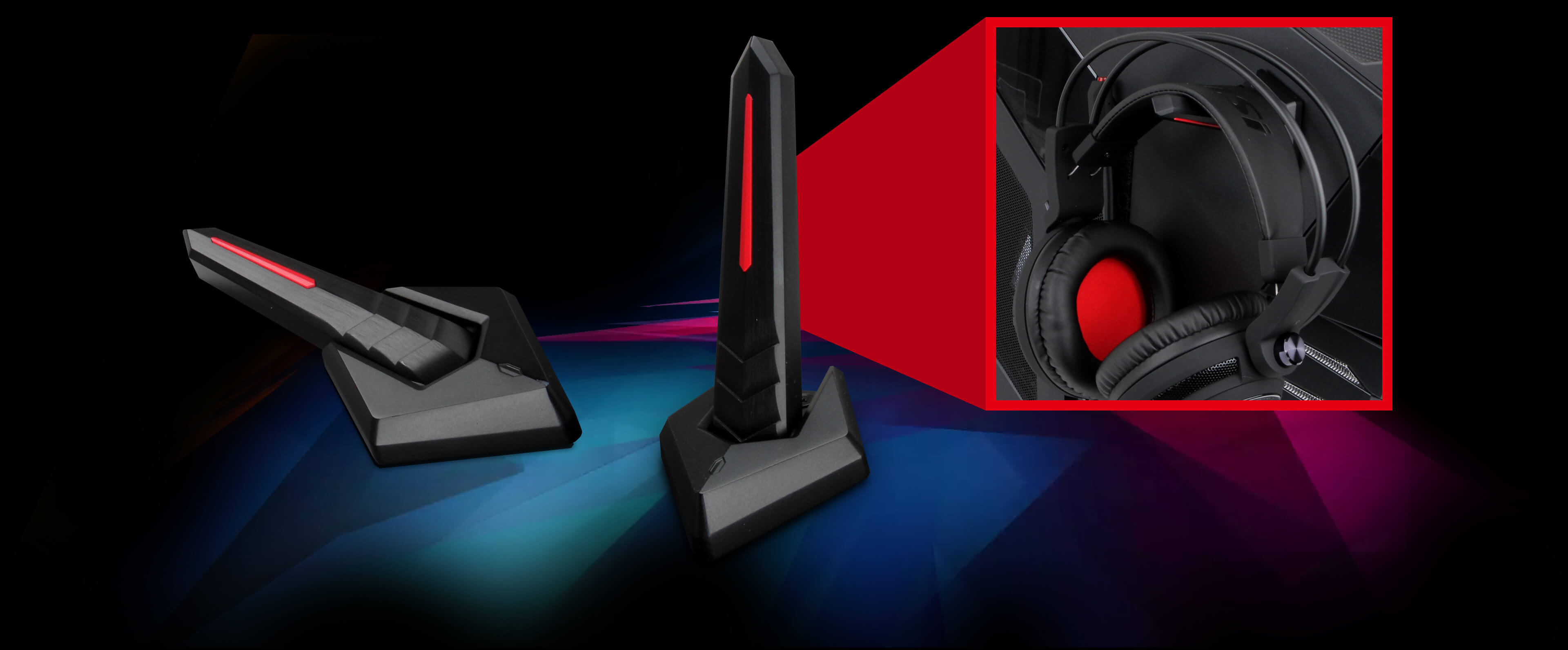 EASY ACCESS TO COMPONENTS
Always get the best performance out of your system with the latest technologies. The components inside MSI Gaming Desktops are easily accessible and ready to be upgraded at any time. Whether you're expanding storage or upgrading your processor or graphics card, you can always keep your gaming rig up to date with the latest hardware.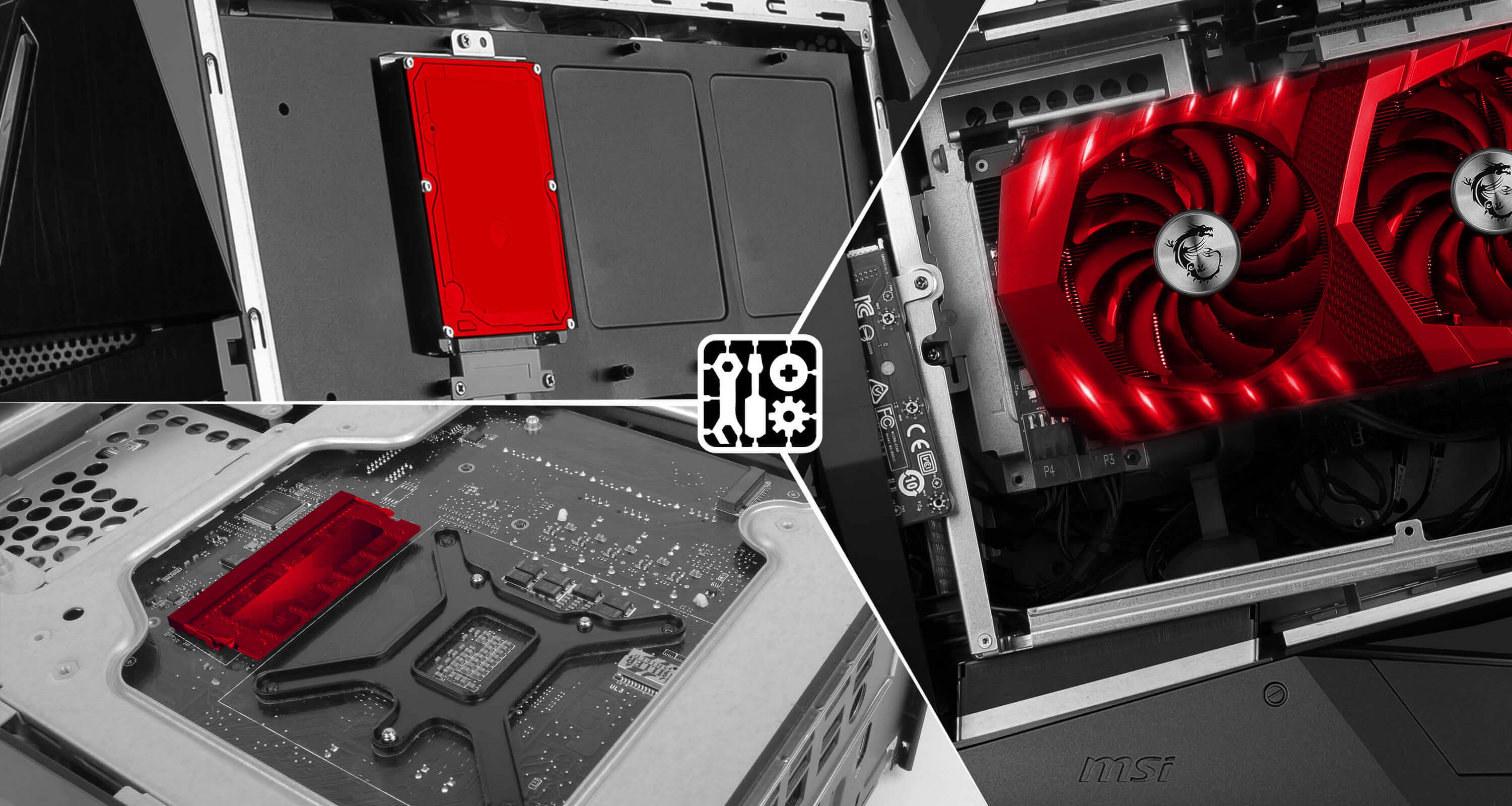 COOLING
STAY COOL WHILE GAMING
Cooling is essential for Gaming systems, especially while playing the latest games. MSI Gaming Desktops have a customized thermal design to cool all essential components and make sure your system stays cool and runs stable at peak performance during long gaming sessions.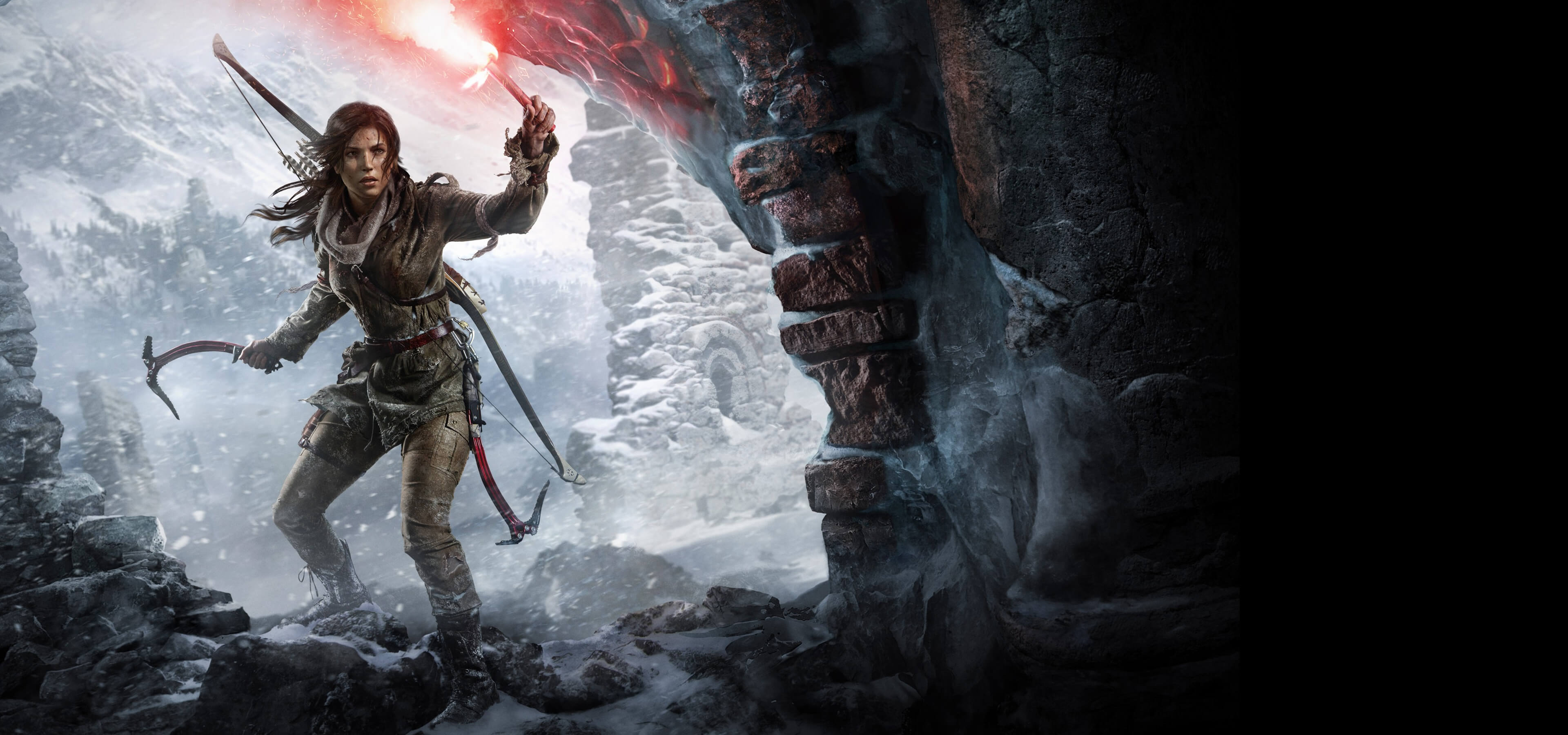 SILENT STORM COOLING
To get outstanding performance MSI Gaming Desktops are equipped with an exclusive, smart and powerful cooling system. MSI's Silent Storm Cooling embraces several separated chambers that individually take care of different components within the system. This unique design makes sure the system's temperature stays perfectly under control, supporting a cool and silent operation.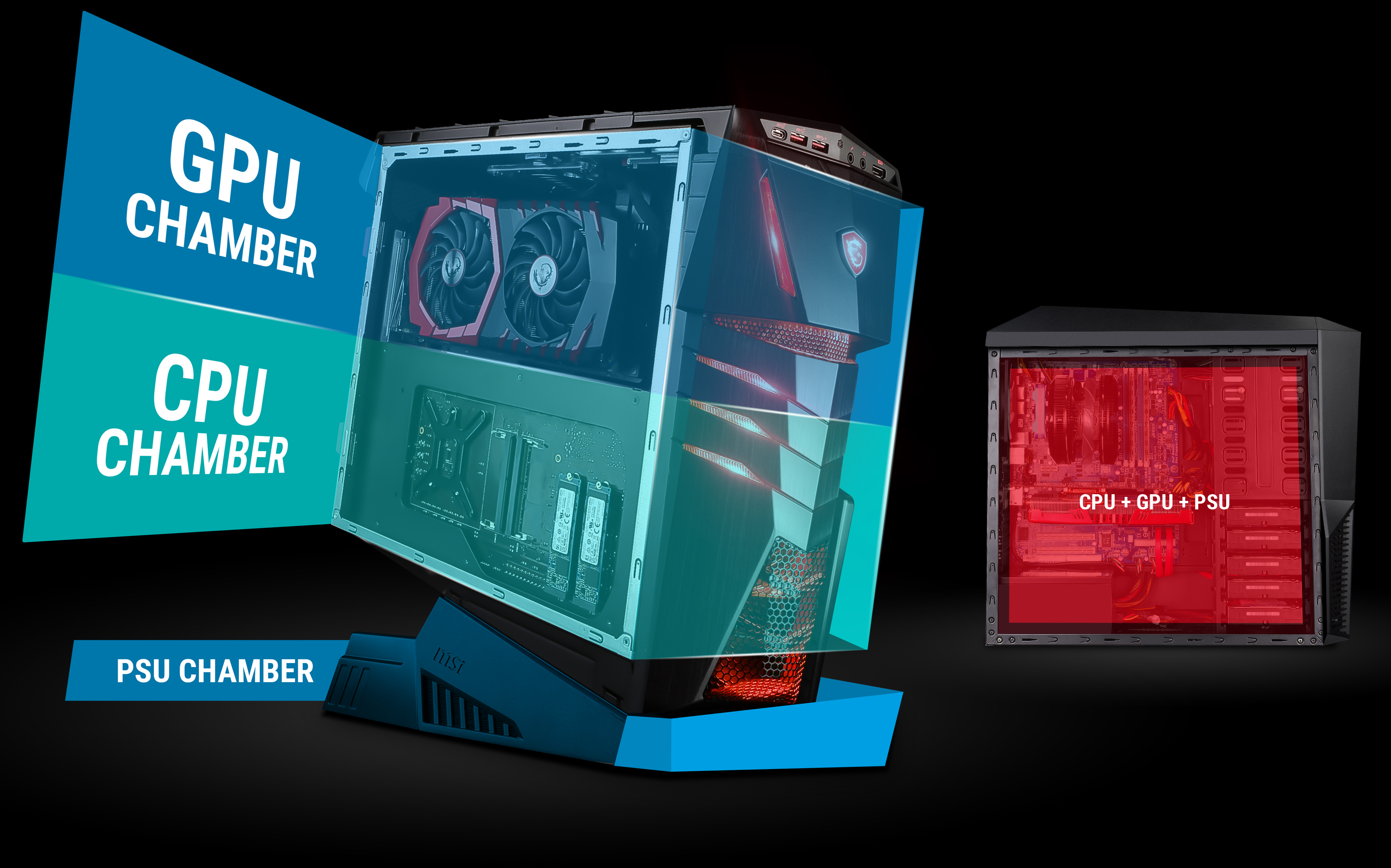 CUSTOMIZED DRAGON LIQUID COOLING
Perfect for enthusiast gamers who want to get every last MHz out of their processor for more system performance, this MSI Gaming Desktop is equipped with an advanced Dragon liquid cooling system to enable extreme CPU overclocking. Gamers can enjoy a stable game experience without having to worry about cooling.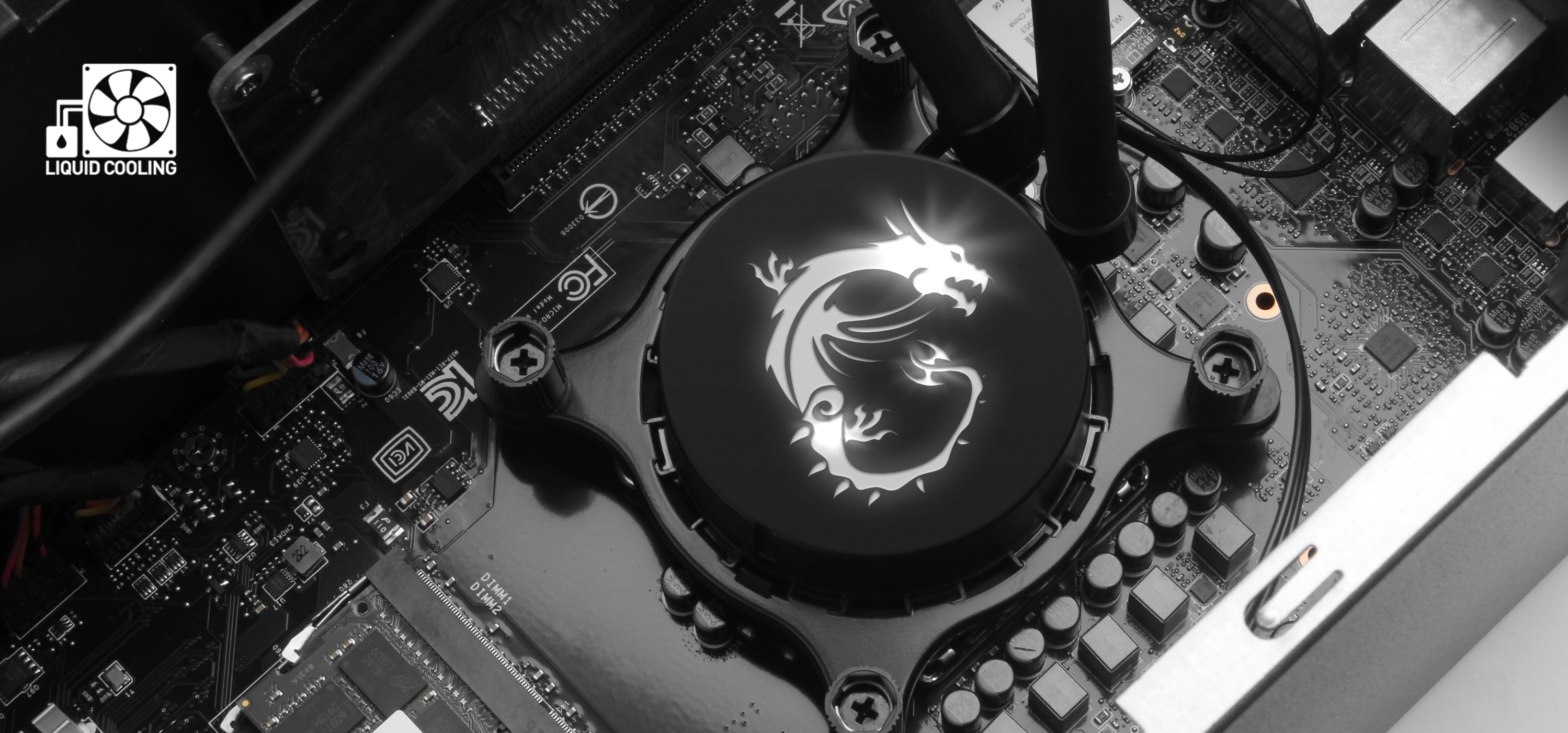 STAY COOL, STAY QUIET
The custom designed cooling systems inside MSI Gaming Desktops ensure a cool system while also keeping it very silent, so you can always hear the enemy coming.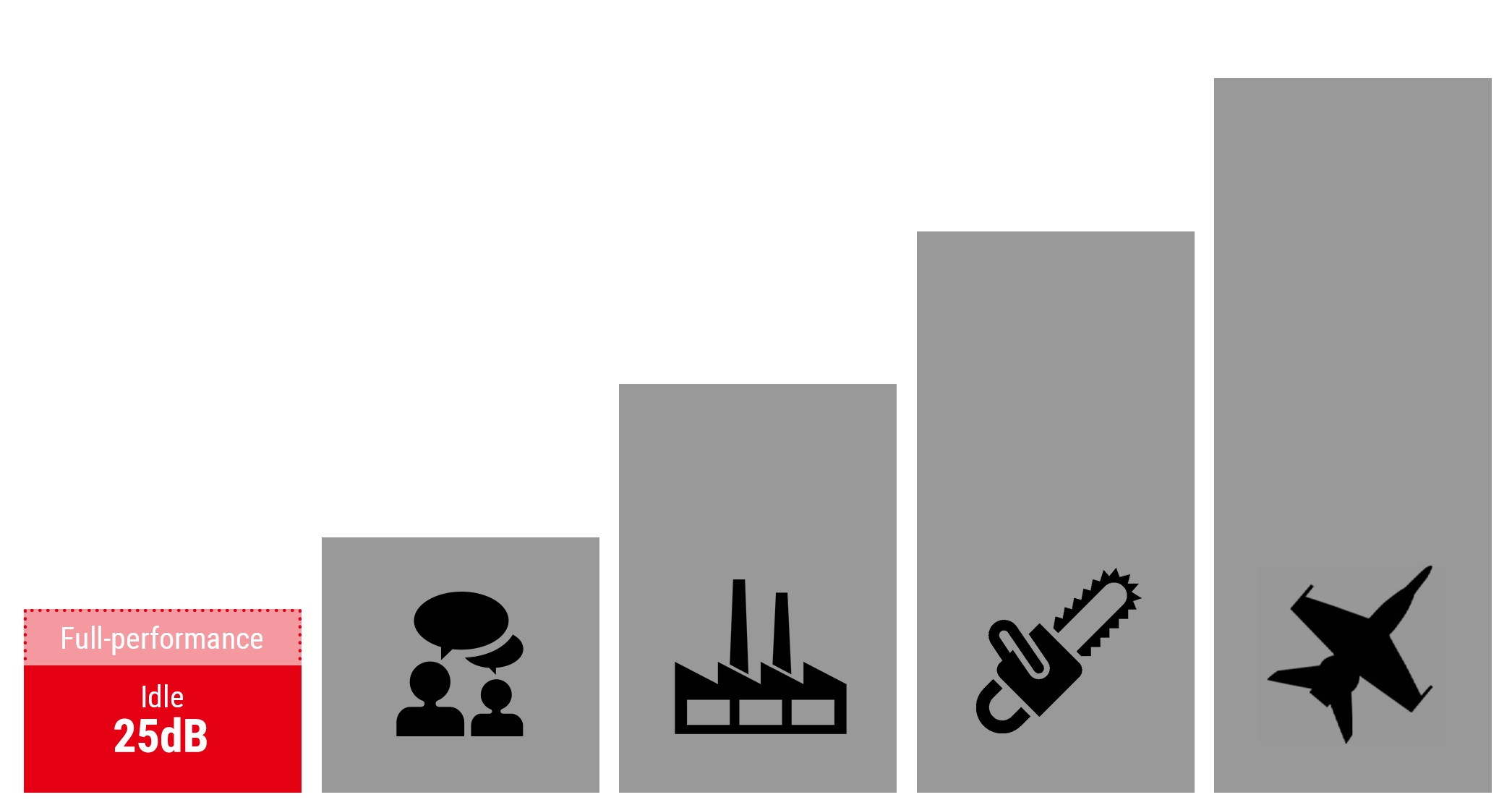 AUDIO
SOUND THAT PULLS YOU INTO THE GAME
Get the most immersive sound experience when gaming. MSI Audio Boost delivers the highest sound quality through the use of premium quality audio components. This lets you enjoy breathtaking, game-changing sound to create the most exciting gameplay
مشخصات فنی
پردازنده
Intel® Core™ i7-7700 Processor
حافظه RAM
64GB DDR4
گرافیک
MSI GTX 1080 Gaming 8GB GDDR5X SLI
حافظه ذخیره سازی
3TB HDD+2x256GB SSD
درایو نوری
Slim Type(9.5mm) Tray-Load Super Multi
صدا
7.1 Channel HD Audio with Nahimic audio enhancer
صفحه کلید / ماوس
سیم دار
درگاه ها
شبکه محلی
Killer E2500 Gigabit Ethernet with Killer Shield
شبکه محلی بی سیم
Killer Wireless-AC 1435 Combo
USB 2.0
Rear : 2 x USB 2.0
بلوتوث
BT 4.1
ورودی HDMI
1 x HDMI in (connect Graphic card and front VR-Link port)
خروجی HDMI
Front : 1 x HDMI out (VR Link) Rear : 1 x HDMI out
USB 3.1
Front : 1 x USB 3.1 Gen 2 Type C 1x USB 3.1 Gen 2 Type A 1x USB 3.1 Gen 1 Type A (with Super Charger 2) Rear : 6 x USB 3.1 Gen 1 Type A
مشخصات فیزیکی
ابعاد(میلی متر)
195x510xx506( 39 Liter )
وزن خالص
14.3KG / 19.9 KG